Fed's Williams foresees up to five rate hikes this year. Is he clueless?

Many of the economic departments of the regional Federal Reserve banks conduct outstanding research on the economy. At Runnymede, I rely on them heavily for my prognostication on the economy as well as the stock market. The pity is the bosses at the Fed must not read their own research. Is it possible that the Chicago Fed's National Activity Index (CFNAI) is not part of the "data" that the Central bank is so "dependent" upon? CFNAI has missed expectations 9 of last 11 months and has been below 0 (contraction) for 8 months last year. In November the index missed expectations once again, tumbling to its lowest reading since May.
Moving East, The Philadelphia Federal Reserve's Business index for December came in below expectations. The index came in at -5.9, reflecting a fall from the November number of 1.9, and below the expected gain of 1.0.
To the Southeast, the Federal Reserve Bank of Atlanta whose "GDPNow" model forecast for real GDP growth (seasonally adjusted annual rate) in the fourth quarter of 2015 is 0.7 percent on January 4, 2016, down from 1.3 percent on December 23, 2015.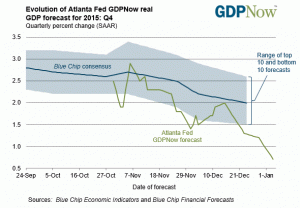 Given the increasingly pessimistic economic data published by the Federal Reserve's own regional banks in Chicago, Atlanta, and Philadelphia, we wonder why San Francisco Fed President John Williams told CNBC that the U.S. economy is "in very good shape." The good news is that Williams is not a voting member of the Fed's policy committee this year. The bad news is that his views remain important because he is widely seen as a key ally of Fed Chairwoman Janet Yellen, having served as one of her top advisers. We are genuinely and increasingly concerned that the people at the Fed are clueless as to what is going on in the economy.
Applying the vital information from the regional Federal Reserve banks, Runnymede alerted clients and blog readers in an article entitled They Say Recovery, We Say Recession published on September 2, 2015. The stock market is finally responding to recessionary forces negatively impacting overvalued prices. As our "Financial Hurricane" alarm has been on red alert since early August 2015, we would urge readers to take cover and precautionary measures to protect your capital. While we believe there are times to take risk to grow your portfolio, today is not that time. For now, capital preservation and asset protection should be paramount.

What is your reading of the economy? What are your expectations for stocks in 2016?
Header photo from Unsplash Enrico Carcasci
By