Now that I have your attention, I have no idea if your broker is a crook or not. But if you do one thing today, go to BrokerCheck to perform a background check on your financial advisor. Hopefully yours has a clean record and not several red flags against them.
In baseball, you get three strikes and you are out. In other professions, it may only take one or two strikes to get tossed. But at the self-regulatory organization FINRA, the Financial Industry Regulatory Authority, that oversees the brokerage industry, it could take 69! The New York Times just wrote a lengthy article about a stockbroker who received 69 customer complaints over 13 years before finally being barred from the business in 2014.
The stockbroker, Jerry A. Cicolani Jr., had complaint after complaint documented over many years. Lawyers, doctors and others were victims of his long career which should have been cut short years earlier. In 2002 alone, over $4 million in damages were awarded in disputes with customers who alleged unsuitability, breach of fiduciary duty, negligence and misrepresentation.
Clients of Merrill Lynch, where Mr. Cicolani worked from 1991 to 2010 in Akron, Ohio, had named him in more than 60 complaints by the time he left the firm. Merrill paid $12 million in settlements to his customers and kept him on for years after the complaints began to roll in.
This should put you on high alert. Just because a broker works for a large organization doesn't mean that you should blindly trust anyone. I find it hard to believe that Merrill kept this crook on board after paying out millions in damages. Furthermore, FINRA never fined or suspended Cicolani for any of his actions. In 2012, he received just a "cautionary letter." He might still be in the industry if not for the US Securities and Exchange Commission (SEC) suing him in 2014 for his role in a Ponzi scheme and the FBI charging him with selling unregistered securities to 39 investors who lost $7 million. Following these events, FINRA barred him from the investment industry!
Here is Cicolani's BrokerCheck record: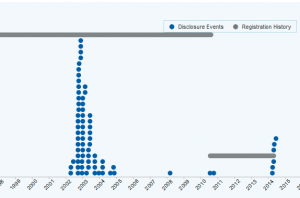 Go to BrokerCheck Now!
You should head to BrokerCheck right this instant. You have no excuse not to. It takes less than a minute to see if your broker or advisor has serious red flags on his/her record. After that, it is up to you to decide if you need to make a change or not. Recently I had a client check her insurance agent to find that he had several red flags including a personal bankruptcy and tax liens against him.
Be warned that just because your advisor has a clean BrokerCheck record doesn't mean that you should be 100% comfortable either. The information on BrokerCheck is largely self-reported and negative disclosure events may have been expunged from a broker's record. The WSJ reported last year that more than 1,600 stockbrokers have records that failed to disclose bankruptcy filings, criminal charges or other red flags in violation of regulations.
What are you waiting for? Go to BrokerCheck! Good luck!

Related articles:
Double Your Pleasure at BrokerCheck With Two Types of Advisor Searches
70,000 Brokers Don't Have a Clean Record
"Darryl Hannah in Handcuffs" by Tar Sands Blockade is licensed under CC BY 2.0
By