The S&P 500 is roughly halfway through earnings season with 237 companies having reported. It has been a very strong period so far with 79% of companies beating expectations vs an average 73% over the last 10 years. Earnings are on track for double-digit growth once again and this should be a bullish catalyst for the market in the second half of the year. As we discussed in our last quarterly webcast for clients, reported earnings continue to accelerate and we view this as extremely positive for the stock market. Here is the chart from our call: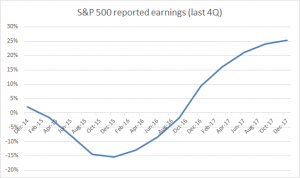 5 bullish quotes from company managements
Here are some bullish quotes from earnings season. Clearly, the large multi-nationals are seeing broad based global growth. The financial weather looks bright and sunny right now.
1) McDonalds: Our strength was broad-based as we grow sales and guest counts at every one of our top 9 markets for the first time since 2008.
2) Visa:  Our global business benefited from an overall healthy economy as payments volume grew in every major region. In the United States, we saw strong consumer confidence continued to drive spending growth.
3) Delta: I think I'm pretty enthusiastic about how the first half of the year has shaped up relative to the capacity levels that are in the transatlantic. And what we've seen is really a higher demand in the business cabin on a yearover-year basis. And it's not insignificant; it's a relatively significant increase. So we read a lot about the European business sector picking up, and we're seeing that in the travel to and from Europe.
4) McCormick & Company: In the Asia/Pacific region, China grew sales in the second quarter of 2017 at a double-digit rate in constant currency. China's growth was broad-based across our different brands and channels, including e-commerce, and we expect this performance to continue throughout 2017.
5) Schwab: New accounts are at levels we have not seen since that Internet boom of the late '90s, up 34% over the first half of last year. But maybe more important for the long-term growth of the organization is not so much new accounts but new-to-firm households. And our new-to-firm retail households were up 50% over that same period from 2016.


Header photo from Unsplash Vladimir Solomianyi