We are half way through summer already and hopefully you are having a great summer holiday. All around the world, people have been traveling in a big way since COVID.

In the US, the TSA reported that travel throughput fully recovered in Q1 2023, reaching 102% of 2019 levels in January, 101% in February and 99% in March.

It is no surprise that the global pandemic lockdown has given everyone the urge to travel.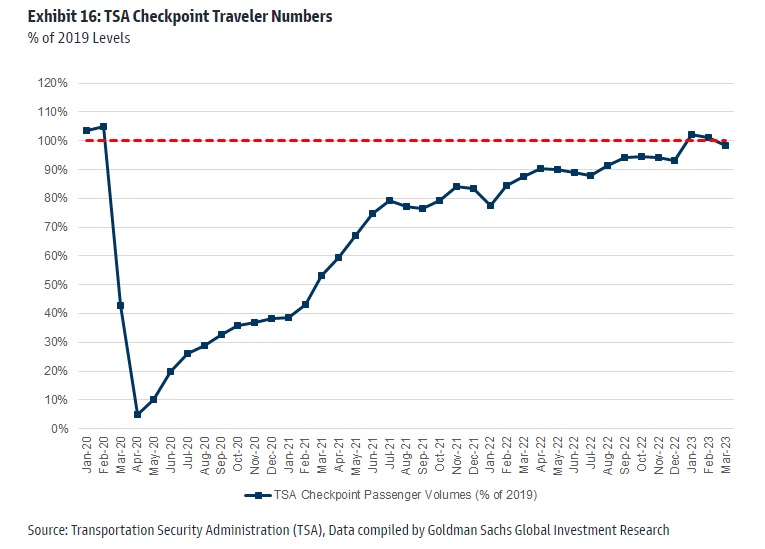 China re-opening?
One of the big expectations heading into 2023 was that China's re-opening would be one of the few areas of accelerating growth; however, that has fallen short of expectations. In the 2nd quarter, China's GDP growth missed expectations at +6.3% year-over-year (Bloomberg consensus +7.1%) and just +0.8% quarter-over-quarter.

One reason why the reopening may be falling short is that China still has a large portion of its economy in manufacturing. Roughly 47% of China's GDP is from agriculture and manufacturing.

If you look at ISM manufacturing data in the US, it has continued to contract to a cycle low of 46 in June. An index reading below 50 suggests a contraction of the manufacturing sector. The data is similar in much of Europe. This industrial slowdown is having a big impact on the Chinese economy. In comparison, the US is largely a services based economy and the service sector has been very resilient.

One bright spot in China is that travel is very strong. According to government data, the total number of domestic tourists increased 64% year-over-year in the 1st half of 2023. And domestic tourism revenue increased a whopping 96%.

If you are looking to invest in China, it is best to look for opportunities in the services sector and stay away from the manufacturing sector — a large part of many of the China indices.