On June 15th, Costco stock was trading at $180. The next day Amazon announced its deal to acquire Whole Foods which sent supermarket stocks and Costco shares tumbling. Investors feared that Amazon would destroy the supermarkets much like it did with bookstores and electronics retailers. If retailers don't adapt or have some kind of advantage, then they very well may fall by the wayside. However others will adapt and thrive. One such case is Costco who carries a huge value proposition that Amazon will struggle to combat.
Last week, Andy visited Reuters TV and made his case for Costco.
Andy actually didn't say immune but said they are insulated from Amazon because of their loyal customers, innovation and price advantage.
The key is really pricing and Costco has a huge price advantage against all supermarkets and a cavernous advantage against Whole Foods. In a recent report from JP Morgan, they compared prices in various supermarket categories among five major retailers and found that Costco prices, on a per-unit basis, are 30% cheaper than Wal-Mart, 14% less than Aldi, and a whopping 58% cheaper than Whole Foods.
The discount is even deeper for dry groceries such as coffee and cereal — Costco charges 37% less than Wal-Mart. The gap is narrower for the perishable basket, where prices are 22% lower at Costco compared to Wal-Mart.
Even if Whole Foods cuts prices by 20-30% across the board (which they aren't), Costco still has huge pricing advantage because of their large packing sizes. Because you buy in bulk, the cost savings are large and Amazon simply won't be able to ship those types of sizes at the same price point. As we stated in a July blog post, we believe that Costco's death by Amazon is greatly exaggerated. Costco isn't going to allow Amazon to simply eat their lunch either. They recently announced they will begin to offer two-day delivery (and are testing same day delivery) on hundreds of grocery items and if you spend more than $75, shipping is free.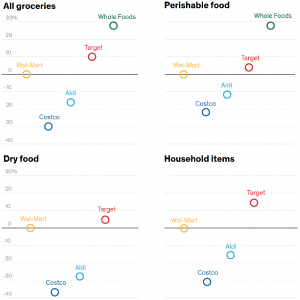 Do you think Costco will survive or will it be death by Amazon?

"Costco" by JeepersMedia is licensed under CC BY 2.0