For many, Thanksgiving is about traditions. It's a time for traveling to spend time with family and friends. It's about sharing favorite recipes – turkey, stuffing, and grandma's famous pie. It's about community, gathering locally to watch a high school football game or watching a game huddled around the family TV. At our house growing up, my parents always hosted family as well as friends who did not have family nearby. We look forward to doing that again this year. Thanksgiving marks a return to a simpler time, providing temporary solace from a volatile world full of geopolitical risks, racial tensions and economic worry.
Today, I give thanks to friends, family, food, football and… yes, the US economy.
Positive Signs This Thanksgiving
I get it. Many Americans do not feel very good about this economy. We have historic levels of income inequality and many are still unemployed or under employed. However, there is some positive anecdotal evidence. The first three points below come from AAA's 2014 Thanksgiving Travel Forecast.
Thanksgiving holiday travel volume is expected to reach the highest level since 2007, with 46.3 million Americans taking a trip.

The average distance traveled this Thanksgiving will be 549 miles roundtrip, and Americans will spend an average of $573 during the holiday weekend.

The national average price for regular unleaded gasoline has fallen for 60 consecutive days, reaching $2.81 per gallon. That is the lowest price for fuel in nearly four years.

According to the National Retail Federation's Thanksgiving Weekend Expectations survey, more than 140 million people will shop this coming Black Friday, Small Business Saturday, Shop Good Sunday or Cyber Monday.
Economic Barometer
Economic pundits have described the US economy as the cleanest dirty shirt in the laundry for some time due to its strength relative to other developed economies. Last Tuesday, the Bureau of Economic Analysis release showed output in the US increasing at an annual rate of 3.9%. This beat expectations and topped Wall Street estimates. Experts caution whether the recovery will continue at this pace. Where are we, really?
Let's take a look at one measure, the Coincident Economic Activity Index, a broad-based measurement of current economic conditions widely used by investors to judge the economy's current position in the business cycle. The index includes four indicators: nonfarm payroll employment, the unemployment rate, average hours worked in manufacturing and wages and salaries.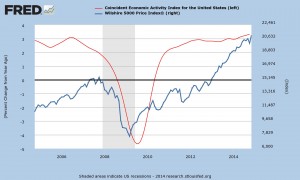 While business cycles must happen, the economy looks to be okay for now judging by the Index of Coincident Indicators. The current bull market may be getting tired in duration, but no signs of change yet. You may also observe a correlation between the Coincident Economic Activity Index and stock prices (the Wilshire 5000 is a market-capitalization-weighted index of the market value of all stocks actively traded in the United States.)
I wish you a happy and safe Thanksgiving and hope that you'll find time for reflection, gratitude and generosity. I am thankful for you reading our blog and for our clients who work with us. My fingers are also crossed that you'll do your fair share of shopping this Thanksgiving Weekend in order to keep US economic growth suprising to the upside.

What are your favorite Thanksgiving traditions? What are your thoughts about the economy?
photo credit: musicwala via photopin cc
By