The June non-farm payrolls report from the Bureau of Labor Statistics indicated that 288,000 non-farm payroll jobs were added during June – beating economists' expectations of an increase by 211,000 jobs. The unemployment rate dropped from 6.3 percent to 6.1 percent.
According to the national employment report compiled by payroll processor Automatic Data Processing, the U.S. private sector added 281,000 new jobs last month, the fastest pace since late 2012. Of the new jobs added in June, 82% were service-sector, 5% were factory-sector, and 13% were construction.
For another perspective, about two-thirds of America's 137 million jobs are in private-sector services. Have a look at NPR's Every Job In America, In 1 Graph. The significant size of service within the US job market is just one of many reasons to favor investing in service companies.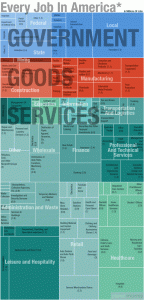 Notes
*The data come from the government's non-farm payroll report — which, as the name suggests, does not include farm jobs. Update: The report also excludes military personnel, government intelligence employees and some self-employed workers.
Source: Bureau Of Labor Statistics
Credit: Quoctrung Bui/NPR

Related blog posts:
By