With the market having rallied in recent weeks, the narrative has shifted from bearish to people trying to call the bottom. But what is the signal and the noise? Statistician Nate Silver wrote the book, "The Signal and the Noise: Why So Many Predictions Fail" where he seeks to find the truth in the data. Today, let's investigate these topics.
Noise: Will Pelosi Visit Taiwan?
Let's start with the noise. The media has become engrossed in whether or not Nancy Pelosi will visit Taiwan this month. The truth is that she would be the highest-ranking government official to visit Taiwan; however, she was scheduled to visit in April but had to cancel after testing positive for COVID. Note that Senator Lindsey Graham, Senator Robert Menendez, Senator Richard Burr, Senator Robert Portman, Senator Benjamin Sasse, and Congressman Ronny Jackson did make that trip, and that trip received virtually no media coverage.
It isn't clear why the media has decided to pick this story up and run with it this time around. Perhaps it is a slow news cycle during the summer holiday. It isn't uncommon for members of the House and Senate to visit China. Two trips took place in 2021 that included Senators Mike Lee, John Cornyn, Tammy Duckworth, and Chris Coons.
Despite political grandstanding by the world's two largest economies, this trip seems like a non-event to us.
Signal: Europe Recessionary Data
Now let's look at some data. While it is now largely consensus that Europe is sliding into recession, if not already in one, yesterday the German retail sales number shocked to the downside. According to Destatis, the German national statistics office, German retail sales fell at the largest annual rate since records began in 1994. Retail sales volumes dropped a staggering 9.8 percent in June.
German consumer confidence has also plummeted to an all-time low thanks to rising prices and the Russian-Ukraine conflict.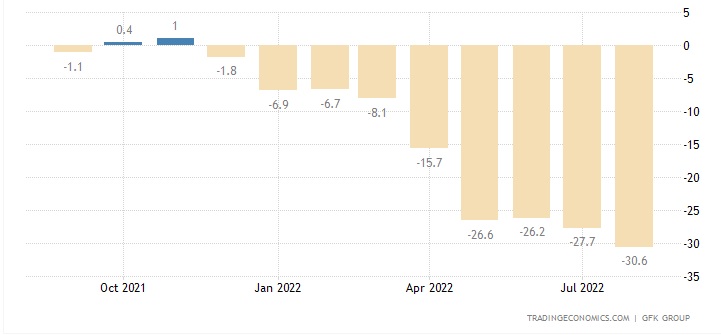 This data set is similar across the Eurozone. Here in the United States, consumer confidence and business sentiment are at historic lows.
With slow growth and tepid earnings combined with rising interest rates, we believe that it is best to remain in a defensive position and look for better opportunities in the months ahead.

feature image from Flickr: Attribution 2.0 Generic (CC BY 2.0)
How do you feel about the economy? Have you reduced spending?