This is my second post during financial literacy month and I'm going to take on cash vs credit. One popular financial radio host, Dave Ramsey, has been a vocal critic of credit cards saying to never own one because you will spend more because it is plastic (strangely he advocates for debit cards instead). I don't believe this is the case but of course I strongly advise only using a credit card under two conditions. One: you are going to use it to replace your cash spending and no more. Two: you are going to pay the balance off in full every month and on time. If you are going to just pile up debts that incur huge interest payments every month, then this post is not meant for you.
Today I'm going to look at an example from The Points Guy (a fantastic resource if you want to learn more about maximizing your value via credit card spending) where Nick Ewen looks at one year spending with the Chase Sapphire Preferred Card vs someone using cash/debit cards. I will also add into the equation using the Fidelity Rewards Visa Signature card that earns 2% cash back on all purchases. In this analysis, the person signing up for the Chase card earns a substantial sign-up bonus and earns points for all their spending. Furthermore, during the year, the person takes a trip abroad. The Chase card has the best benefit of no foreign transaction fees, while the debit card incurs 3% foreign transaction fees and the Fidelity card incurs 1% fees. Here are the results: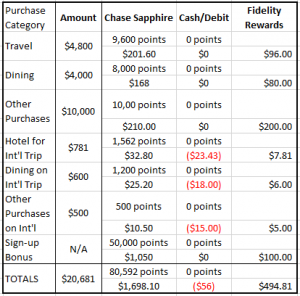 Final results
Winners:
The person that opens a Chase Sapphire Preferred Card is the huge winner here. The sign up bonus alone is worth $1,050 using the Points Guy valuation of points. By the end of the year, they have earned over 80,000 points or a value close to $1700. The points can be used on luxurious redemption like Park Hyatt Zurich or Korean Air first class. Even without the sign-up bonus, the value of the points is worth $648 so it is a great choice for maximizing your spending if you love to travel. Keep in mind that the card has an annual fee of $95 but that is waived in the first year.
The Fidelity card is also a good choice especially if you are trying to invest for your kid's college tuition or for your own retirement. It has a $100 cash back bonus in the first year but it isn't as valuable as the Chase sign-up bonus. The good news is that the card carries no annual fee. At the end of the year in this example, the person has $494 to invest in their Fidelity brokerage, IRA or 529 account. According to Fidelity if your average monthly credit card spend is $1700, the 2% cash back contribution is worth $18,239 after 20 years (assuming a 7% return). Therefore using cash over credit is costing you tens of thousands of dollars over time.
Loser:
The cash/debit card user is the clear loser here. They don't gain any rewards using credit cards and actually earn a negative value of -$56 thanks to foreign transaction fees.
The Bottom Line
As long as you are smart with your spending and don't carry credit card balances, then you should always choose plastic over paper. As Nick Ewen says, "There are no gimmicks here, no hoops which you need to jump through." Research which credit card best suits your needs and then use that to your advantage. Some people carry several cards to maximize bonus points according to where they spend as some cards are better for gas, groceries or travel. Remember if you choose cash over credit, it will cost you tens of thousands of dollars over the long term.
Do you still use cash? Why do you prefer one or the other?

"Credit Cards" by Sean MacEntee is licensed under CC BY 2.0