Andrew Wang and Chris Wang were named on the INVESTOPEDIA 100 list of influential financial advisors. Investopedia, a leading online source of trusted financial information and services, today announced the inaugural INVESTOPEDIA 100, a ranking of influential financial advisors based on social, digital and event clout. Powered by a team of PhD data scientists and financial experts, Investopedia analyzed financial advisors based on their presence on social media platforms, traditional media outlets and blogs as well as their marketing efforts to rank 100 financial advisors.
"We believe in empowering investors to make more informed decisions. Financial literacy is barely touched upon in school so we hope that our daily blog posts can provide them with the tools and knowledge they need for their financial future," said Chris Wang, Director of Research at Runnymede. "We are honored and delighted to be recognized in the inaugural top 100 list from Investopedia."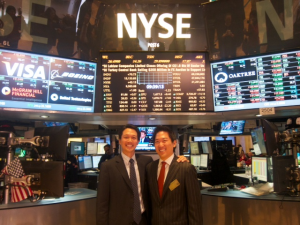 "It's become increasingly clear that financial advisors need to step up their game in order to keep pace with the popularity of robo-advising and passive investing. A brick and mortar location with little online presence will no longer cut it," comments David Siegel, CEO of Investopedia. "The INVESTOPEDIA 100 represents the financial advisors who understand where the industry is headed and how to create a strong online presence and showcase their expertise to a much broader audience."
The full list can be found on investopedia.com/top-100-financial-advisors.
For additional information about Runnymede and its services, contact Andrew Wang or visit www.runnymede.com. The Runnymede Blog can be found at http://blog.runnymede.com and features articles and videos on a variety of subjects including personal finance, 529 college savings, in-depth annuity reviews, asset protection, and more.
About Runnymede Capital Management
Founded in 1993, Runnymede is a New Jersey-based, employee owned, SEC registered investment advisor that manages separately managed equity and bond portfolios for clients including captive insurance, Taft-Hartley, public fund, foundation, corporate and private clients. The firm is renowned for its experienced team, proprietary research and disciplined investment process which has successfully served clients over many market cycles.
About Investopedia
Investopedia is the world's leading online source of financial content, with more than 27 million unique visitors and 78 million pageviews each month. Powered by a team of data scientists and financial experts, Investopedia offers timely, trusted and actionable financial information for every investor, from early investors to financial advisors to high net worth individuals. Investopedia is wholly owned by IAC (NASDAQ: IAC) and operated by IAC Publishing, a collection of some of the web's largest and most trusted digital media brands.