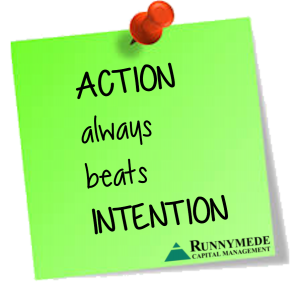 Last night before going to bed my wife asked me, "Can you turn on the humidifer?"  "Sure," I said burying my head back into my laptop to finish some work.
This morning the first thing I heard was, "How come you didn't turn the humidifier on?"  Oops.  After completing what I had been working on, I put the laptop down and quickly fell asleep.
And so, today, I write about ACTION always beats INTENTION.
New Year's Resolutions
It's February.  Did you make a resolution for 2017?  According to U.S. News, approximately 80% of resolutions fail by the second week of February.  Luckily, we're not there yet so there is still hope.  I'm here to encourage you that if you make it beyond next week, you'll be among the 20% who have continued pushing through.
I'll also take this opportunity to admit that I haven't yet begun my 2017 workouts.  To help keep me accountable, I am writing to announce that I am starting today.  Please check in to make sure that I've started and keep going through December.  If we work together, we can be among the mere 8% who achieve our New Year's Resolutions.  Who's with me?  ????
Setting Financial Goals
According to data from the U.S. Department of Labor, about 30% of eligible workers don't participate in their employer's retirement investment plan.
Financial goals, like fitness, are most often achieved by consistently showing up.  Therein lies the challenge.  Rather than spending too much time figuring out how or when you will do it, the key is to do it and keep doing it.
Fidelity Investments® published its eighth annual New Year Financial Resolutions Study that identified the top financial resolutions for 2017:
Save more

(50 percent, down from 54 percent in 2015)

Pay down debt

(28 percent, down from 32 percent in 2015)

Spend less

(16 percent, compared to 19 percent in 2015)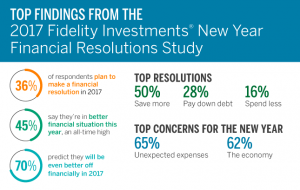 Do any of those resonate with you?  We're doing a lot of research here with the goal of keeping our clients financial fit.
Why Not Now?
In the spirit of just showing up, if there is something that you've been thinking about doing, now is the time to do it.  Thanks to @MitchPresnick, today, I learned about Amy Jo Martin's podcast entitled Why Not Now?
I love the title and it is fitting with this blog post.  Episodes feature interviews of successful "Why Notters" including Mark Cuban, Troy Aikman, Billy Corgan, Tony Robbins, and more.  Give it a listen – maybe it will spark an inspired New Year's resolution or grand business idea.
Let's take deliberate action whenever possible in 2017.  Tonight, I promise to turn the humidfier on before going to bed.  That is a start, and often that is the most important thing!

Have you made a New Year's resolution or set your goals for 2017? Please share them here so we can support one another and achieve them together.
By