Today with bated breath, the financial markets are waiting on the FOMC statement for any hints of a potential rate hike in 2015. Many economists are still expecting a hike in September or October but at Runnymede, we remain highly skeptical that the Fed will raise rates in 2015. Like we have been saying since March, the data dependent Fed just doesn't have the numbers to justify their first rate hike. Janet Yellen and the Fed target 2% inflation and sorry we aren't anywhere near that number. She should be more worried about deflation than inflation at this point.
The CRB Index has crashed
Below is a chart of the CRB Index which provides a broad measure of commodity price trends. It measures seventeen commodities from the groups of energy, grains, oilseeds, industrials, livestock and precious metals. This is the one chart that should state the obvious to all investors: there is no way that the Fed will raise rates right now.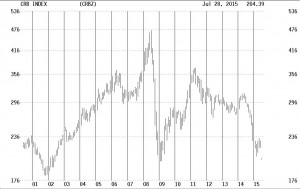 The CRB Index has fallen like a rock and is now at 2009 levels. Everyone knows that crude oil is down 50% over the last 12 months but virtually all commodities have fallen over the last year. Coffee is down 31%. Oats are down 35%. Sugar -30%. Metals are down across the board. Copper is down 27%. Livestock is the only category that shows a few positive numbers with pork bellies (+6%) and chicken (+1%) up marginally.
The June CPI increased just 0.3% in June and excluding food and energy increased just 0.2%. Given this data, the Fed is more likely to get dovish than raise rates. Could we see QE4 is the near future? We wouldn't be surprised if it is on the horizon.

By