In January 2012, the Fed outlined its 2 percent goal for inflation. But despite buying more than $4 trillion in bonds since 2008, inflation has remained stubbornly below that goal. Because of this I am beginning to wonder if the Fed will consider turning quantitative easing back on for another round of asset purchases in 2015.
The Fed is winding down its current bond purchase program as they are expected to announce the final taper at the next FOMC meeting at the end of next month. While many economists are expecting the Fed to raise interest rates sometime next year, if inflation continues to be low, then the Fed is unlikely to raise rates anytime soon.
Yellen talks Deflation
Last month in Jackson Hole, Fed Chairwoman Janet Yellen brought up the dreaded D word, deflation. She called out "pent up wage deflation" as a reason for rates to stay low. While she was speaking specifically about wages, since that speech, commodity prices have been tumbling.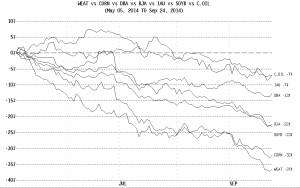 After a strong first quarter, commodity prices have been slumping badly since May. Corn and wheat have led the decline. Since Yellen's speech, corn, wheat and soybeans are down over 20%. If you look at a longer term period of 2 years, corn and wheat are down over 50%; while gold is down over 30%.
More QE Cowbell to Come?
Earlier this week, Minneapolis Fed President Narayana Kocherlakota said the Fed should consider imposing a two-year deadline for meeting its 2 percent inflation goal. He said that he believes the Fed should allow inflation to rise above the 2 percent in order to bring down unemployment faster. Kocherlakota is considered one of the most dovish Fed policymakers, supporting added monetary stimulus at a time when the Fed is wrapping up its asset purchases. He wants the Fed to consider price-level targeting which could force the Fed to take more aggressive easing measures if inflation stays below target.
Weak commodity prices will definitely keep inflation well below Fed targets over the short term. Because of this, I wouldn't count on the Fed raising rates at all in 2015 and if deflation fears pick up, the Fed will likely turn the QE spigot back on again.

Do you think the Fed will raise rates in 2015? Have we seen the end of QE?
photo credit: DonkeyHotey via photopin cc
By