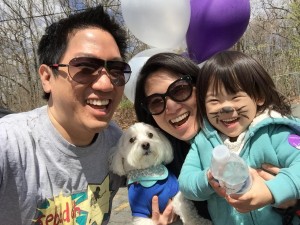 This weekend millions of people will gather around the United States and join together in the fight to end premature birth. The March for Babies is held yearly in over a thousand communities with the proceeds going to fund March of Dimes research to prevent premature births, birth defects and infant mortality.
This will be the 3rd year that my family participates in this wonderful event. Last year Runnymede was a top corporate fundraiser in Morris County and once again we are hoping to be a big contributor. If you would like to help with a donation, any amount would help the cause, even if only a dime.

Here are 3 reasons why I walk at the March for Babies:
1) We are all March of Dimes babies
If you were born in the US within the last 75 years, you are a March of Dimes baby. Founded by President Franklin D. Roosevelt to combat polio, the March of Dimes' funded research led to the development of the polio vaccine. Since then the March of Dimes shifted their focus to healthy pregnancies and premature birth. They led a campaign to educate the public about the benefits of folic acid during pregnancy and were instrumental in mandating newborn screening for all babies. Watch this short video narrated by Chris Pratt to learn more:
https://www.youtube.com/watch?v=qgP7SGhiHCg
 2) For Chloe and Julian
The March for Babies is important to my family because on April 20, 2012, our twins were born prematurely at just 25 weeks. Before their delivery, my wife received a prenatal steroid shot for fetal lung development. This breakthrough treatment was developed through March of Dimes funded research.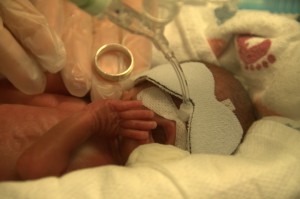 Our son Julian earned his angel's wings and our daughter Chloe had a long four month stint in the Morristown Medical's Neonatal Intensive Care Unit (NICU). Chloe was born weighing just 1 lb. 11 oz. and had to fight for survival on a daily basis. While Chloe's NICU stay had many ups and downs, we carry many fond memories thanks to her incredible primary nurses, Kim, Daisy and Nina, who kept a watchful eye on her 24 hours a day. We are forever grateful for their loving care along with the NICU doctors and staff.
Thanks to research from the March of Dimes and others, miracles happen every day in the NICU. This isn't an exaggeration. Chloe had surgery to fix a hole in her heart at just a week old. When you are an adult, surgery is worrisome but imagine this when your daughter is so tiny and frail. The doctors and nurses are miracle workers!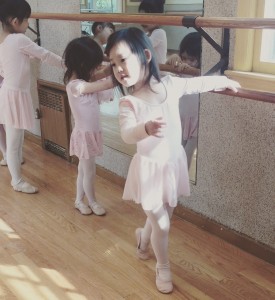 Today, we are in awe of how far Chloe has come and it is hard to imagine that she was so very small. She has no remaining signs of her early health struggles. She just celebrated her 4th birthday. Recently she has been enjoying learning Mandarin at immersion school and breaking boards (yes you heard that right) at her Taekwondo class. She also loves music (her current favorite is DNCE's Cake by the Ocean) and learning ballet with her friends.
3) For the future babies
Like Chloe and Julian, over 500,000 babies are born too soon in the United States. Thanks to organizations like the March of Dimes; after decades of increases, the rate of premature birth in the United States has now been on a steady decline for the last several years. This decline – to 9.6 percent today – has saved thousands of babies from being born too soon. However, the US still has one of the worst prematurity rates of any developed nation and that simply has to change. The March of Dimes has a goal of reducing the preterm birth rate to 5.5 percent by the year 2030 which would be in line with other developed nations. We hope that goal is achieved many years ahead of schedule.
Together with your help, the March of Dimes can and will find the answers and save the lives of our most fragile. Every baby deserves a chance at a happy and healthy life. I hope you join the cause and find a March of Babies walk around you. The future babies are counting on it!

By