While in Manhattan for meetings recently, I walked past this shelf of Amazon packages being prepared for delivery.  While, I admittedly have my fair share of Amazon boxes at home and the office, seeing it at this scale was eye opening.  From watching Amazon Fire TV to my kids streaming Amazon Prime cartoons to asking Alexa to check today's weather forecast, Amazon.com, now in its 20th year as a public company, is everywhere.
Prime Member Growth
Amazon keeps its Prime membership data pretty close to the vest, but Consumer Intelligence Research Partners estimates that Amazon has 80 million Prime customers in the United States, up 37.9% from 58 million this time last year.  Prime membership is an interesting feature of Amazon's business because it's a subscription fee that provides recurring revenue and it allows the company to deliver added value to customers via video and music.  As seen in the graph below, Prime members tend to spend more than Non-members, on average — that's in addition to the $99 per year membership fee.
Brick and Mortar
Last week, Amazon opened its first New York brick and mortar store.  Located at the Time Warner Center in Manhattan, it carries 3,000 book titles and looks like a traditional bookstore.  Interestingly, though, books do not list a price.  Rather, Amazon Prime members use the Prime app to check the price while Non-members will pay the book's list price.  The store does not accept cash.  Shoppers may either charge their purchase to their Prime account or pay with a credit card.  Think Amazon is trying to drive new Prime membership?  It certainly appears that way.
Multiple Business Lines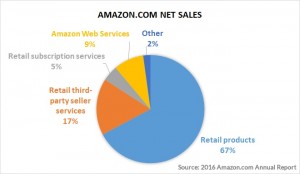 Annual revenue rose 27% to $136 billion in 2016, operating profit rose 87% to $4.2 billion, and the company surpassed 240,000 global employees as of the end of the year.  Amazon has battered rivals with low pricing enabled by its economies of scale, smart logistics, and its never-ending drive toward efficiency.  Amazon has been a leader in warehouse robotics and dreams of delivering packages to your doorstep via drone.
Areas to watch:
Big box retail, grocers, and drug stores
B2B
Entertainment
On-demand and logistics
Cloud
We Can't Rest on Our Laurels
At the company's annual shareholder meeting on May 23, CEO Jeff Bezos was asked about his biggest concerns and the potential hurdles for the company over the next 5 to 10 years.
"There's no rest. We can't rest on our laurels," Bezos reponded.  "Over the last 20 years, there has never been a time when we looked into the future and thought it was clear sailing," Bezos said. "We look into the future, and we see always an intensely competitive environment, a world that is awash with high rates of change and new technologies, all kinds of disruptive influences.  It never looks like smooth seas to us from the inside, no matter what it might appear from the outside."
Amazon's success has often been attributed to its obsessive focus on the customer, an eagerness to invent and pioneer, and a willingness to take a long-term approach.  This philosophy of never resting, to continously innovate and adapt, should help Amazon continue its growth in the years ahead.

Are you an Amazon customer and Prime member?  Please share your thoughts and experiences in the comments.