In a couple of months, drastic sector changes are coming to the S&P and MSCI indices which have potential implications to your investment portfolio. Some of the biggest names in tech, Netflix, Facebook, Google and others are changing sector classifications and if you aren't aware then it could have a major impact on your investment portfolio. Morgan Stanley has called the upcoming realignment "unprecedented" noting that there has only been one similar kind of sector change in the history of industry indexes when the real-estate sector was spun out of the financial group. This is different in that it is shifting some of the largest companies to a new sector called communication services.
Who is affected?
Let's start with those not affected. If you own the stocks directly or invest in broad market indices like SPY or IVV, then you will not be impacted at all. However if you are invested in sector specific funds like the Technology Select Sector SPDR ETF (ticker XLK), then you will see big changes to the underlying holdings. Credit Suisse estimates that the sector changes could impact 26 ETFs with more than $60 billion in assets, with the XLK the largest of the effected ETFs with over $20 billion in assets.
Big changes
Here is a chart of the big tech names and where they will end up.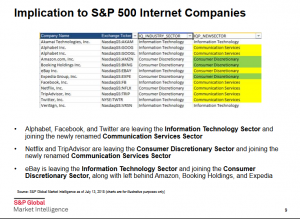 Note that Alphabet, Netflix, Facebook and Twitter are leaving the tech sector and joining the newly renamed communications services sector which will be the 4th largest sector in the S&P 500 with a 10% weighting. This new sector is an attempt to better reflect the primary business of different companies. If you want to get a jump start on the new communications sector, then you can take a look at ticker XLC, which launched in June. Other names added to this new sector are gaming companies like Activision Blizzard and Electronic Arts and media companies like Walt Disney and Comcast.
The other sector affected is consumer discretionary who will see eBay, Alibaba and Etsy make the move over from tech; but lose Netflix, Tripadvisor, Walt Disney, Comcast and DISH Network. Overall, the consumer discretionary sector will drop from 12% weighting to 9% in the S&P 500.


"Google, Facebook y Microsoft apoyan a Apple frente al FBI" by iphonedigital is licensed under CC BY-SA 2.0