This week's Barron's cover story features the results of their semi-annual Big Money Poll. In the spring, a record 50% of respondents categorized themselves as neutral about the market's prospects through year end. This looks like a good call as the market traded sideways to slightly down since the spring.
In the latest fall survey, it found that the pros are slightly more bullish than in the spring. 55% of respondents call themselves bullish through next June, up from 45% in the spring survey.
Even though the bulls have increased, this doesn't mean that it will translate to big gains in the stock market. Based on their mean market forecasts, the Big Money bulls see the Dow ending the year at 17,140 which is below yesterday's close. The bulls expect the Dow to reach 17,965 by the middle of next year, for a slight gain of 4.3% from here.
Bears also gain ground
While the number of bulls has increased, it doesn't mean that the bears are in hibernation. In fact, 16% of respondents claim to be bears in the latest survey, more than triple the percentage last spring, and higher than last fall's 10%.
While there are many reasons to be worried about the market, valuation is one flagged by nearly a third of the pros. 30% of Big Money managers consider the market to be overvalued, up from 21% from the spring. Another third of managers say a weakening economy or recession poses the greatest threat to the market, while about a quarter flag earnings disappointments.
Runnymede's Andrew Wang was quoted in the article:
Wang thinks the Dow could fall as low as 15,000 by the middle of next year, and cites deteriorating economic data in emerging markets, Europe, and China, and even in the U.S. "Prices for copper, oil, agricultural products, metals, and minerals have fallen by 20% to 50% in the past six to 12 months," he says. "We are seeing rising layoffs, on top of layoffs in the energy business. We're beginning to see an impact on restaurant sales, health-care spending, and financial services. Investors should focus on asset protection and capital preservation."
Here are the results of the Barron's Big Money Poll: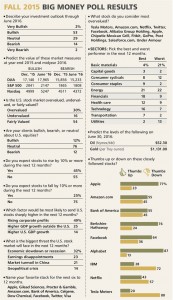 Source: (Barron's)