I don't know about you, but I am tired of reading about thieves posing as advisors who steal or lose their clients' money. Celebrities are too often the target, but the minute you say, "It can't happen to me," look out, don't let your guard down.
According to the Wall Street Journal, about one in every eight brokers has red flags including complaints or other problems disclosed in their regulatory filings. It is caveat emptor since 70,000 brokers have at least one disclosure, nearly 3,000 brokers have at least five disclosures, and they are all out there still working with clients. Don't give these brokers the benefit of the doubt. It isn't worth risking your hard earned savings.
Check Your Broker or Advisor at BrokerCheck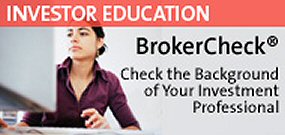 Two weeks ago, the Financial Industry Regulatory Authority (FINRA) announced a new streamlined version of BrokerCheck, a database that keeps track of the work history and disciplinary records of current and former registered reps and member broker-dealers. Even better, BrokerCheck connects to the Investment Adviser Public Disclosure (IAPD) database providing access to registration documents filed by more than 25,000 SEC- or state-registered investment advisers. This means you only need to perform a single search for an individual investment professional and/or their firm at BrokerCheck.
The BrokerCheck search results are presented in a graphical timeline (see below), illustrating a more user-friendly view of the professional's employment status and history, industry registrations, and any reportable events such as customer disputes or disciplinary actions that may have occurred during his/her career.
Be warned, though, that the information on BrokerCheck is largely self-reported.  Also be aware that negative disclosure events may have been expunged from a broker's record  so read between the lines and look for clues that could be warning signs.
That said, unless you use it, nobody will be saved so please read on.
What To Look For
Disclosure Events – Look here first for regulatory events, customer disputes, terminations, judgement/liens, bankruptcies. This is your table of contents for potential red flags.
Work History – Changing firms too frequently over the broker's most recent 10-year employment history, in and outside the brokerage industry, could be a sign of trouble.
Types of Securities – Problems do not typically arise with plain vanilla stock and bonds. Be alert for relatively risky products such as annuities, structured CDs, non-traded REITs, and unregistered securities.
Required to Pay Restitution or Fines – This is a clear sign that there is a problem.
For further research check state agencies (contact info for each state's agency can be found at the North American Securities Administrators Association website.)
An Actual BrokerCheck Timeline You've Got to See to Believe
Hopefully, your search does not look like this one! Red dots represent "Disclosure Events" so normally the appearance of one or two is not good.  The below example belongs to a financial broker to Hollywood's rich and famous who had 64 customer complaints filed against her and was the subject of five regulatory cases. FINRA suspended her registration in September 2013, but I bet her clients wish they'd done a BrokerCheck search first. Happy searching and good luck!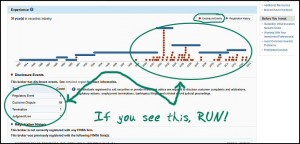 Please post a comment below if this helped you steer clear of potential trouble or assisted you in hiring an advisor.
Related post: Double Your Pleasure at BrokerCheck With Two Types of Advisor Searches
FINRA suspended her registration in September 2013, but I bet her clients wish they'd done a BrokerCheck search first.