With over a 1.37 billion people, Chinese spent more than half a trillion dollars eating out in 2016. In a recent report, Dianping Meituan, which offers food-ordering and delivery services, estimates the country spent 3.5 trillion yuan ($507 billion) dining out in 2016. This number eclipses the GDP of Sweden ($496 billion), Belgium ($455 billion), Norway ($387 billion) and many other countries.
Another interesting fact from the report is that the country's favorite meal out is hot pot with roughly 22% market share. For those not familiar with hot pot, it consists of a simmering metal pot of stock at the center of a dining table. While the pot is kept simmering, it is basically a do it yourself meal as you cook your favorite meats, seafood, veggies, dumpling and noodles. The cooked food is usually eaten with a dipping sauce.
Little Sheep from Yum Brands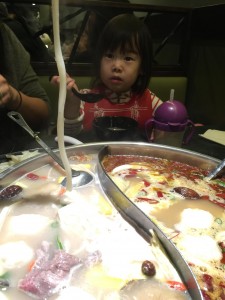 One way to get exposure to this Chinese favorite is through Yum Brands China (ticker YUMC) which was spun out of Yum Brands last year. While the company's profits come mainly from KFC (the first big US franchise to gain access to China back in 1987) and Pizza Hut, Little Sheep is an interesting concept with huge potential. They currently have 182 units (3Q16) and have ambitions to expand the concept throughout China. This is still very early in development as there are over 5000 KFCs.
Little Sheep is also a growing franchise in the US and one of my daughter's favorite meals especially in the winter. For those of you in the NY/NJ area, Little Sheep has restaurants in Manhattan and Flushing, NY and Edison, NJ. If it is cold out, you will likely have to wait in line for a table. In China, the popular HaiDiLao offers its awaiting customers free massages and manicures. Don't expect that type of treatment but I'm sure that you will enjoy the meal!


Header photo from Unsplash Xiong Gordon