Back in 1999, I was covering technology IPOs for CREF Investments. The theme was that brick and mortar stores were going to be crushed by online retailers. All you needed was eyeballs on your website and your stock would go up 10% per day. It was a crazy time. The theme would turn out to be a good one but way too early and most of the companies that I saw during that period are now bankrupt.
Fast forward to today and this year's theme is death by Amazon. Essentially the same theme from almost 20 years ago is back and is more credible. Amazon sells everything and the UPS guy stops at my house way too many times per week. I seldom visit brick and mortar stores anymore. Even when I visit the Short Hills Mall which is one of the most profitable in retail, there are vacant spaces and usually I visit to eat at CPK or Cheesecake Factory, not shop at stores. The question is: will Amazon be the only retailer left standing?
Death by Amazon Index
Bespoke Investment Group created its own 54-stock index called the Death by Amazon index. Its aim is to measure the performance of shares of retailers deemed to be most vulnerable to the rise of Amazon. This group of stocks has their core business in brick and mortar that primarily sell third party brands, rather than their own. The group actually outperformed the S&P from 2012-2014, but it has been pretty ugly since 2015. This year 14 of the stocks are down over 40% (including SMRT, TUES, ASNA, SSI, FRED, JCP), though they aren't the best of companies to begin with.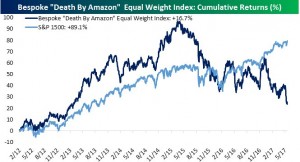 Are all retailers dead?
While we try to stay out of the way of negative momentum stocks, there will certainly be opportunities to pick up great businesses when people start selling on stories and not fundamentals. Recently Amazon made its bid for Whole Foods and the supermarket stocks got crushed. The theory is that Amazon destroyed Barnes and Noble, Circuit City and Best Buy so supermarkets must be doomed, right? Good companies evolve and adapt to change. It may be a painful process in the short term but that's what a great management team is there to do. Best Buy has adapted and changed over time. Is it dead? The stock is up over 220% in the last 5 years. After poor years in 2013 and 2014, it has grown its earnings by 25%, 9% and 28% in the subsequent years. Fundamentals matter.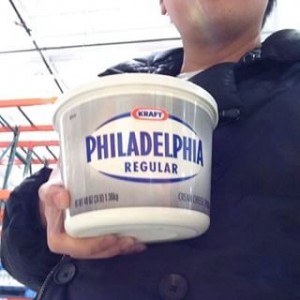 Costco was recently hit hard (-7%) on the Amazon/Whole Foods announcement but we don't see Costco being crushed by Amazon. Hedgeye recently did a survey of Costco customers and 63% stated their primary reason for shopping at Costco is price/value. Sorry but Amazon isn't going to be able to beat Costco's cost advantages. They sell you a custom-larger pack size for a better value than you get anywhere else. No one wants to buy a 3 lb cream cheese container the size of their head (like in my photo) but if it saves them money, then they will happily do it. Amazon won't be able to recreate this because the shipping will inevitably cost more.
In the end, you have to know the stocks that you own. Some retailers will adapt and survive and others won't and will die. Amazon isn't going to be the only game in town at least not for many years down the line.
Do you believe in death by Amazon? Do you still shop at brick and mortar stores?


"Abandoned Mall" by Brett Levin Photography is licensed under CC BY 2.0