With our world getting smaller daily, it is imperative to keep one's eyes and ears open to what's happening in global economies, especially the world's second largest economy. On May 24th, I attended the 2017 Peking University Guanghua New York Forum at the New York Public Library.  The forum featured renowned speakers re-imagining China's business landscape for an audience of 200 Chinese and international industry leaders, academics, and innovators to discuss, debate, and exchange ideas.  Here are the highlights.
P&G Sees Massive Opportunity
Carolyn Brehm, VP for Global Government Relations and Public Policy at Proctor & Gamble, said, "China has transformed and is presenting market opportunities we never could have dreamed of 4 years ago.  Nothing compares to the China opportunity."
For perspective, she put up this slide:
| | | | |
| --- | --- | --- | --- |
| Years | Country | Duration/Gr. Rate | Era |
| 1978 to 2015 | China | 37 years @ >10% | Economic Reform |
| 1950 to 1973 | Japan | 23 years @ 9.3% | Post WWII Boom |
| 1928 to 1939 | Russia | 11 years @ 4.6% | Soviet Industrialization |
| 1870 to 1913 | United States | 43 years @ 4% | 2nd Industrial Revolution |
She went on to elaborate that the affluent Chinese consumer has changed dramatically in the past decade.
Today's consumer in China is:
More individualistic
Buying more discretionary items
Desiring lifestyle services and experiences
More brand loyal
Showing preferences for premium products (Consumers aged 50-60 were historically very conservative spenders, but this is changing.)
Looking for ratings and praise among friends
Seeking safety and quality
China's Middle Class Explosion
Patricia Graue, a Director at the Brunswick Group corroborated the above themes.  She spoke about China's expectation for dramatic change across many sectors and that American companies' business success in China will depend on connecting with upper middle class consumers' changing expectations.
She cited this McKinsey forecast for massive growth in upper middle class households.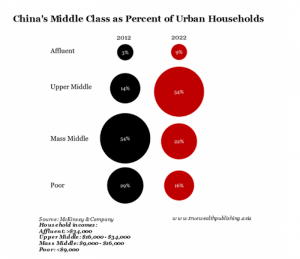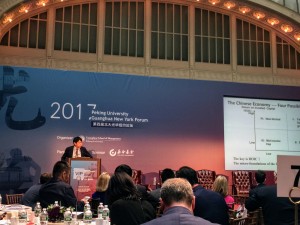 Notable Quotes Said by Panelists
Joseph Lake, Director of Global Forecasting at The Economist, on Sino-US political leadership:
"The United States is looking inward and China is looking outward."
Professor Hongbin Cai of Guanghua School of Management on China's debt:
"Everyone looks at China's debt issue.  I think it is a serious problem, and the Chinese government recognizes it.  Outsiders tend to be overly concerned because they underestimate China's ability to deal with these types of issues."
… on the Asian Financial Crisis and Subprime:
"Balance sheets looked dangerous but in the end the Chinese government was able to solve it.  Unlike the USA and other developed market economies, China's government has resources and assets (much larger) compared to Western governments.  As long as government understands the reality, resources and the tool box should enable China to deal with issues."
China factoids from Guanghua Dean Qiao Liu (author of Corporate China 2.0: The Great Shakeup):
Total economy size has increased by 25x.
More than 620mm people have been lifted out of poverty
Largest manufacturer in the world representing 25% of global share
2011-2013 consumed more cement than the US in the past century
98 mainland Chinese firms appeared on Fortune 500 list in 2015. China tops Japan and ranks as number 2 in the world, second only to U.S.A.  China is likely to overtake U.S.A. in 3-5 years.
On potential areas of future growth:
Healthcare could be next big thing.  It is forecasted that there will be more than 300mm people over age 60 by 2030.  There are good hospitals but not healthcare companies.
Movies: China's box office revenue has grown from RMB 2.3B to 43B in 10 years.
Sports: The Chinese government is backing programs which promote sports among the population, with the country's State Council aiming to increase the size of China's sports and fitness market to exceed RMB 5 trillion in value by 2025, more than a triple of RMB 1.5 billion 2016.
Tourism: 360mm Chinese tourists are outbound today.
David Dollar, Senior Fellow, Brookings Institution, John L. Thorton Center
"Characteristics that reduce risk of financial crisis in China are a high savings rate and low household debt.  You cannot rule out a financial crisis in light of debt.  China will need to grow based on less credit and more productivity growth."
Simon Jin, Head of Greater China, S&P Global
"Stability is a top priority.  China's central government is reigning in.  The government believes leverage is too high so their reigning in liquidity.  Financial markets are a big part of the reform.  China opened up its interbank bond market.  Foreign investors invest $123 B which only accounts for 1.3%, third largest behind U.S.A. and Japan."
Jeffrey Towson, Professor at Guanghua School of Management, Peking University
"You will never see a billion people enter the middle class again.  As incomes rise and change, the complexity is exploding… it is impossible to make definitive comments about the consumer."

Links
Peking University, Guanghua School of Management
Are your views on China generally positive or negative?  Do you see China as an economic partner or dangerous competitor looking into the future?
"Chinese New Year London" by Paolo Camera is licensed under CC BY 2.0