"Neutral men are the devil's allies." — Edwin Hubbel Chapin
This week's Barron's cover story features the results of their semi-annual Big Money Poll. The latest survey, emailed in late March, drew responses from 143 money managers across the country, representing some of the nation's largest investment firms and pension funds, as well as many smaller investment boutiques. The poll is interesting as it gives one a consensus view of market expectations.
Shift to Neutral
As the market pushes for record highs, money managers have becoming increasingly cautious. This is evident in the current poll in which a record 50% of respondents categorize themselves as neutral about the market's prospects through year end. That's the highest reading recorded by Barron's and the highest level since 2005 where 40% of participants were neutral.
A hat tip to Barron's writer Jack Willoughby for including me in the commentary:
Our poll would seem to confirm as much, with 65% of managers saying that their clients are neutral on stocks, and 10% indicating they're bearish. Chris Wang, director of research at Runnymede Capital Management in Morristown, N.J., which oversees $200 million, thinks he understands why. Wang considers himself bullish, and believes that expansionary monetary policies, corporate mergers, and share buybacks could propel stocks higher still. "But investors have reason to be cautious," he says. "This is the sixth year of a bull market. Is the economy slowing? How soon will the Federal Reserve raise interest rates? These are questions that worry investors."
Overall the bulls still outnumber the bears by a wide margin. 45% of respondents are bullish versus just 5% in the bearish camp. A year ago, the bulls weighed in at 56% vs 9% bears.
Here are the results of the Barron's Big Money Poll: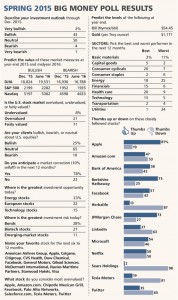 Source: (Barron's) U.S. Money Managers Turn Cautious