Two months ago, I wrote that the S&P earnings will suffer its first annual decline since 2008. The silver lining was that 2016 estimates still looked ok. However with the new year now drawing near, even those estimates are falling. For the first time, 1st quarter estimates are showing a year-over-year decline. Furthermore earnings for both 2015 and 2016 continue to contract.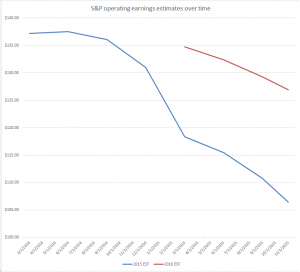 Peak margins are in
Recently the media likes to say that ex-energy earnings, the S&P 500 earnings are still growing. While this is true, you can't simply ignore the fact that energy earnings are a disaster. This is similar to the mentality that in 2008 ex-financials, everything was rosy. Sorry but you can't just ignore the trouble. It doesn't work that way. Either way, if you look at operating margins, the peak was made in the third quarter of 2014. And it isn't just energy margins that are heading lower, most sectors saw peak margins in 2014.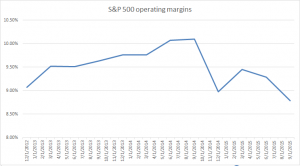 The 3rd quarter operating margins in 2015 are estimated at 8.79% which would be the lowest margin since 2011 and the weakest 3rd quarter margin since 2009. Needless to say, this isn't a positive for market multiples. Investors are unlikely to pay more for slowing earnings growth and declining margins. Weakening S&P 500 earnings will continue to put a ceiling on the upside for the S&P 500 and could trigger a more meaningful correction.

By