At Runnymede, we firmly believe that earnings matter. It's earnings that drive stock prices higher or lower over the long term. So it is important to monitor what is happening to the overall earnings picture. In February, I wrote a blog post entitled, Where have all the (S&P) earnings gone? Back then street estimates had been reduced significantly but still predicted 5% growth for 2015.
Today the earnings picture is clearer with most of the S&P 500 constituents having reported for the first half. The results aren't pretty. Thanks to the crash in energy prices and the strong US Dollar, S&P 500 earnings declined in the first half and are on pace for their first year over year decline since 2008. In hindsight, S&P earnings experienced peak earnings in the 3rd quarter of 2014 with a record high 10.1% operating margin; and have been declining thereafter.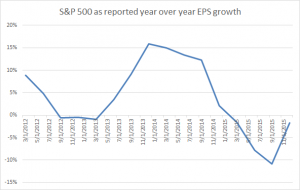 2H2015 and 2016 estimates
The second half 2015 estimates are likely too optimistic. For the first half, the S&P energy sector posted a loss of $0.99; but analysts are expecting a gain of $8.56 for the second half. These estimates are probably too high given current crude oil prices. Declining earnings will continue to put pressure on the stock market for the remainder of the year.
Looking forward to 2016, analysts are projecting S&P earnings at $130.81 or 17% growth. This seems like good news but remember that at the end of 2014, analysts projected earnings growth of 14% for 2015 and the real earnings will likely be negative.

By