The northeast has had a brutal last couple of weeks. Yesterday we saw a third nor'easter bring more snow to the area. The first had wind gusts of 50mph and knocked power out at our office for a week. The second brought close to 2 feet of snow and took down many trees and power lines. Many homes in my area were without power for 5+ days. I was one of the unlucky ones losing power on Wednesday night. Temperatures in my house dropped steadily down to a low of 46 degrees by day 3. The food in the refrigerator was a lost cause but the biggest worry was freezing pipes causing significant damage. Three of my surrounding neighbors had full-house generators and I'm sure many people that lived without power are now seriously considering installing one even at the cost of $8-10k.
Weather likely getting worse, not better
Growing up in NJ, I don't recall having lost power for more than a few hours at any time. But in recent years, it is becoming a regular occurrence. In 2011, a freak October snow storm caused huge damage as trees couldn't handle the weight of the snow with leaves that hadn't yet fallen of their limbs. In 2012, it was Hurricane Sandy that left many without power for a week or more. While we didn't have significant outages after that, this week served as a reminder of climate change's impact. A study released Tuesday in the scientific journal Nature Communications ties extreme winter weather, specifically major snowstorms in the northeastern US, to warming Arctic temperatures. "The publication of the paper is especially timely given the extreme winter of 2017/2018: record warm Arctic and low sea ice, record-breaking polar vortex disruption, record-breaking cold in both the US and Europe, disruptive snowfalls in both the US and Europe, severe "bomb cyclones," costly nor'easters," Cohen said.
Buy a Generac generator or stock?
Now I wonder if I should install a generator or at least own a portable one. I believe in climate change and the likelihood is that extreme weather conditions are on the rise, not the decline. It seems like a generator of some kind is a must.
Using the Peter Lynch of "invest what you know," I think investors should take a look at Generac (ticker GNRC) as a potential investment or trade. Note that I don't own any shares but I think the stock is worth researching a bit more. Generally I prefer service companies to product companies like Generac. For Generac to grow, they have to sell more generators each and every year. That is difficult when there is already an installed base that isn't going to own more than one generator and many people won't make the dollar commitment to a full house generator.  The company appears to be well run with over 40% return on equity. They know how to earn very good returns. On the negative side, I prefer to invest in companies with low debt and Generac had over $900 million in debt at the end of 2017.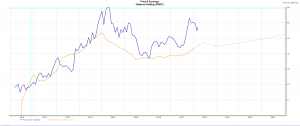 The last few years saw the stock trade sideways as fewer power outages and the slump in the oil and gas sector impacted Generac's fundamentals. I suspect that Hurricane Irma and Harvey plus the recent nor'easters will help spur residential demand for generators which account for roughly half of their total sales. This could provide a tailwind to their earnings for the next 6-12 months. That's my cursory analysis. For potential investors, it would make sense to listen to their next quarterly earnings call to see how their order backlogs are building after these big storms.
Do you own a generator? Do you invest in Generac stock?
Photo: Christopher Wang