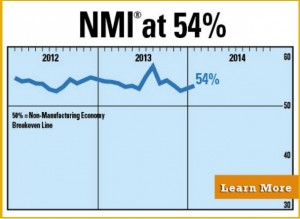 The US service sector growth picked up in January after two months of slower growth.
The Institute for Supply Management (ISM) reported that its service index grew to 54% in January, up from its 53% December reading. This narrowly beat expectations of 53.7 from forecasters surveyed by Dow Jones Newswires. This marks the 49th consecutive month of growth. A reading above 50 indicates the sector is expanding.
Following a December contraction, the New Orders Index expanded to 50.9%.
Hiring continued to be strong as the Employement Index rose to 56.4% from the December reading of 55.6% and indicates growth in employment for the 25th consecutive month and at a faster rate.
Overall the ISM index still points to a solid growth from the Service Sector. The majority of respondents continue to see improvements in business conditions. Weather conditions have negatively impacted business this winter but overall the majority feel positive about future economic growth.
The Institute of Supply Management reported that 11 of the 18 non-manufacturing industries reported growth in Janurary— listed in order — are: Management of Companies & Support Services; Agriculture, Forestry, Fishing & Hunting; Other Services; Public Administration; Utilities; Professional, Scientific & Technical Services; Information; Wholesale Trade; Real Estate, Rental & Leasing; Retail Trade; and Finance & Insurance.
Respondents of the survey said:
"Slight increase in business being seen currently." (Management of Companies & Support Services)
"Business conditions continue to improve." (Information)
"Activity picking up on new-year projects." (Finance & Insurance)
"All phases of the business seem to be getting stronger and have good first half-year outlooks and booked business." (Professional, Scientific & Technical Services)
"Sales has shown signs of improvement, but lack a sustained pattern to build confidence." (Retail Trade)
"Casual dining remains challenging, tends to slow after the holidays." (Accommodation & Food Services)
Intense weather in several areas of the country is perceived to have contributed to a slow start in what otherwise is historically a strong month." (Wholesale Trade)

Click here for the full release.
By