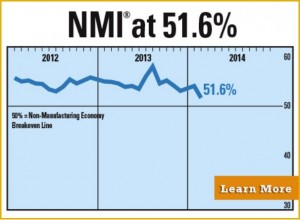 The US service sector tumbled in Feburary to a four-year low thanks in part to a nasty winter.
The Institute for Supply Management (ISM) reported that its service index fell to 51.6 in February, down from its 54% January reading. Analysts had predicted a small drop to 53.5. This marks the 50th consecutive month of growth. A reading above 50 indicates the sector is expanding.
The New Orders Index rose to 51.3%, up from 50.9% in January.
Unfortunately, hiring took a turn for the worse in February. The ISM employment index plunged to 47.5 in February, down from a robust 56.4 in January. This is the first time falling below 50 for the first time in more than two years.
Weather is definitely impacting the economy and the service sector isn't immune. While the ISM index still points to a growth, it has been slowing since the summer of 2013. The majority of respondents' comments indicate a slowing in the rate of growth month over month of business activity. Some of the resondents attribute this to weather conditions. Overall respondents' comments reflect cautiousness regarding business conditions and the economy.
The Institute of Supply Management reported that 10 of the 18 non-manufacturing industries reported growth in February— listed in order — are: Other Services; Management of Companies & Support Services; Public Administration; Agriculture, Forestry, Fishing & Hunting; Finance & Insurance; Utilities; Transportation & Warehousing; Educational Services; Professional, Scientific & Technical Services; and Information. The eight industries reporting contraction in February — listed in order — are: Mining; Arts, Entertainment & Recreation; Real Estate, Rental & Leasing; Retail Trade; Accommodation & Food Services; Wholesale Trade; Construction; and Health Care & Social Assistance.
Respondents of the survey said:
"Steady — trending slightly lower." (Finance & Insurance)

"Economy still plugging along, but at a very slow rate of growth." (Professional, Scientific & Technical Services)

"The Affordable Care Act is creating significant financial uncertainty to healthcare organizations. With little warning, the negative impact on revenue has been unprecedented." (Health Care & Social Assistance)

"Passage of the federal budget and subsequent funding appropriations are allowing government agencies to start spending funds on planned new projects." (Public Administration)

"Oil prices continue creeping upwards along with chemicals." (Utilities)

"Cold winter weather has had a major affect on us when compared to year-over-year." (Wholesale Trade)

"Winter weather is slowing down our projects; it should only be until April." (Construction)

Click here for the full release.
By