This is one of my favorite posts to write every year as we get to look back on Wall Street predictions and see how they panned out. We have done this in 2014, 2015, 2016, 2017, 2018 and 2019 so it is a tradition to see which strategists did well and which missed the mark.
Last year, the strategists predicted a bull market for 2019 with an average target of +13%, 2995, for the S&P 500. This target looked especially bullish because of the December 2018 selloff, but it turned out that only Deutsche Bank's Binky Chada was bullish enough with a target of 3250 — the S&P 500 finished at 3230.78. Brian Belski collects honorable mention with a target of 3150. Now let's take a look at their thoughts on 2020…
Predictions for 2020
After looking at all the Wall Street reports, here are the targets from 9 strategists.
The good news is that 7 of the 9 are expecting the bull market to continue in 2020 with CSFB's Jonathan Golub the biggest bull at 3425, +6% from the December 31st close. There are two bears that haven't thrown in the towel just yet with Mike Wilson and Francois Trahan both expecting 7% downside with a 3000 target.
Let's take a look at the forecasts and I've also included their predictions from last year so you can see if they are bullish or even more bullish. Note that the Runnymede investment team will discuss our outlook on 2020 on our quarterly webcast in the next couple of weeks. If you are interested in attending, please email us at firm@runnymede.com.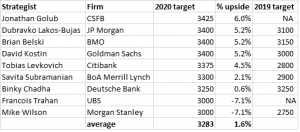 The Bulls
CSFB's Jonathan Golub is currently the most bullish strategist on the street with a 3425 price target. He expects the S&P 500 to have earnings of $173. His price target was established on November 15th which implies a 9.8% gain. He assumes that the S&P 500 revenues will grow in-line with nominal GDP, margin headwinds will recede, and buybacks will remain robust.
Golub expects a change in leadership in the market with value leading the charge over growth.
"Economic data has decelerated over the past 1+ years, resulting in the outperformance of Low Vol and Growth Stocks, at the expense of value. This leadership shifted more recently, on aggressive Fed action (3 cuts) and improving economics."
"Our work indicates that this rotation will continue through the early part of 2020. Absent a 'V' shaped bounce in the data (similar to 2016-2017), we expect this rotation to fade as we move further into next year."
The Bears
Now onto the cautious views of street… Morgan Stanley's Mike Wilson is cautious heading into the new year once again as he was the most bearish in 2019 with a target of 2750 which missed the mark badly. For 2020, Wilson has a S&P target of 3000 with potential downside to 2750.
"The US remains our least preferred region, given limited scope for multiple re-rating or incremental flows, and earnings expectations that look materially too high for us."
The other bear on the street is UBS strategist Francois Trahan who also has a target of 3000 for the S&P. He sees that "investor sentiment toward equities has turned overly optimistic."
"In the right context, it appears more likely that the slowdown is not behind us just yet. We believe the recover WILL get priced in at some point in 2020, but the process has not begun at this stage."

What do you think will happen in 2020? Are you a bull or a bear for the New Year?