This year has flown by and has been a roller coaster ride in financial markets. Typically, I look at Wall Street strategists' targets for the S&P in the new year; but given the crazy volatility, here's an early look at what they are forecasting for 2023.
While the targets aren't always meaningful, it is interesting to see trends within the data that may have value. In January, I looked at their predictions and it was the second widest dispersion since I began tracking the numbers in 2013. The only higher dispersion was in 2018. We know that 2018 was a down year, and it is also looking like 2022 will finish in the red.
The bad news is that the current dispersion for 2023 is even higher as the lowest target on the street is from Barclays at just 3675 and the highest is Deutsche Bank at 4500. This is essentially a move of plus or minus 10%. It is a clear tug of war between the bulls and bears.
2023 S&P Targets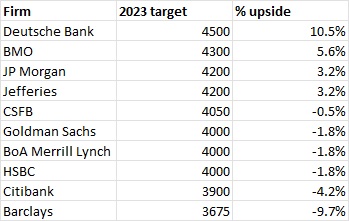 The chart above is using the most up-to-date targets and potential upside/downside from the S&P closing price as of December 4th.
The Bull: Deutsche Bank
The most bullish shop on the street is Deutsche Bank with expectations of a 10% gain for 2023. Interestingly, they expect a very wild ride to get there.
"Equity markets are projected to move higher in the near term, plunge as the US recession hits, and then recover fairly quickly. We see the S&P 500 at 4500 in the first half, down more than 25% in Q3, and back to 4500 by year-end 2023."
I don't think I've ever seen the biggest bull on the street predicting a 25% decline intra-year before finishing up 10%. This implies an S&P move from 4000 today to 4500 to 3375 back to 4500 – all within the next 12-13 months. Maybe we should all invest in some Pepto Bismol.
The Bear: Barclays
The most bearish shop on the street is Barclays with a price target of just 3675 or -9.7%. This is the most bearish I've ever seen a sell-side research firm. Normally, the most bearish prediction is for a flat year. Wall Street does not usually like negative forecasts, because it's bad for business.
"We acknowledge some upside risks to our scenario analysis given post-peak inflation, strong consumer balance sheets, and a resilient labor market. However, current multiples are baking in a sharp moderation in inflation and ultimately a soft landing, which we continue to believe is a low probability event."
The average S&P 500 price target for these strategists is 4036 which is just about where it is trading today. If you are reading the tea leaves, I would expect volatility ahead in 2023 but fingers crossed for a strong 2nd half.

feature image: "Bull Knocking out the Bear in Yu Gardens" by Augapfel is licensed under CC BY 2.0.