We all "get" physical health.  There are 15 gyms within a 2-mile radius of my house.  Even the bag of corn chips on my desk is trying to convince me that it's healthy — natural, organic, non-GMO.  But we know better.  We know that we need to exercise regularly and should forego the chips for an organic apple.  On the other hand, financial health is often the neglected step-child to physical health, mental health, and spiritual health.  In my nearly two-decades working with clients as an investment adviser, I know that even the fittest crossfitter needs to address and nourish her financial health in order to achieve balanced, good systemic health. 
Stress Can Make You Sick
Back in 1995, I was working as an Earnings Analyst and Editor at First Call in Boston.  Earnings season was our peak busy time when we updated revised earnings estimates and released corporate earnings announcements.  At that time, I was also working on First Call's Japan earnings product.  Between the increased seasonal workload and frustrations of a slow computer (think Windows 95, Internet Explorer 1.0, and Netscape), I came down with a case of shingles.  Even when you're 23, stress catches up with you if you're not properly taking care of your health.
If you don't believe me or can't understand how stress can make you sick, then watch this video from TED Ed, written by the Emory University professor of medicine Sharon Bergquist.
Since 2007, the American Psychological Association has published its annual "Stress in America" survey that examines sources of stress and its impact on the health and well being of Americans.  While politics was cited as a new and increasing cause of concern in 2016, top stressors for the American population remained steady —  money, work, and the economy.  "Regardless of the economic climate, money and finances have remained the top stressor since our survey began in 2007," said APA CEO Norman B. Anderson, PhD.Another study conducted by finance professors Joseph Engelberg and Christopher Parsons from U.C. San Diego analyzed over 30 years of hospital data in California.  They found that sharp stock market declines are highly correlated to immediate spikes in hospital admissions.  Anxiety, panic disorder and depression were the most pervasive conditions leading to hospitalization.
Talk Your Way to Financial Fitness
With more than half of US adults struggling financially, it is critically important that we actively take care of our financial health.  How do we battle money as our public stressor #1?  We need to get over the social awkwardness and shyness of talking about money.  While we collectively bemoan paying taxes or dream about how we might spend lottery winnings, it's the day-to-day things that we do that form the basis of our financial lives that remain rarely discussed.  Maintaining a budget, saving for children's college tuition, investing for retirement.  I recommend beginning these conversations with your family — talk to your spouse, then teach your children.  Talking leads to creating a plan, setting goals, and putting a strategy into place that can lead you to long-term financial health.  If you're not able to do it on your own, ask for help.
My Personal Experience
In my life, I have been fortunate to work in an industry and family business that has provided me with plenty of great money mentors.  Further, I have been blessed to work with clients, one-on-one, where we not only manage their planning and investments but I've witnessed extraordinary things that they have done with their money from helping their children to supporting worthy charitable causes.
I have also seen the dark side of financial health.  I saw new clients whose portfolios had been badly battered elsewhere during the financial crisis come to us in 2009.  For some, having their nest eggs reduced by 50 to 60% took a heavy toll in the form of severe anxiety, and in extreme cases even terminal cancer.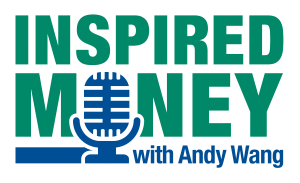 Inspired Money
I believe one reason for America's sedentary financial lifestyle is that most people don't talk positively enough about money.  Just like with getting physically fit, getting financially fit requires inspiration, discipline, and accountability.  Since attending FinCon Masters New York last month, I decided to launch a podcast called Inspired Money.  Each week, I will interview an interesting individual with an inspired money story to help listeners get inspired, shift their perspectives on money, and achieve incredible things.  From making it to giving it away, inspired money means making a difference, creating something bigger than oneself, and maybe even making the world a better place.
As you can see, financial health is important to me, my family, and our clients.  I hope that you'll commit to improving your financial health by starting with your family… and together we can build a community here at this blog and podcast (planning to launch in August September.)  Please stay tuned…

What does financial health mean to you?  Please share your personal story.
---
August 2017 Update: This blog post was named one of 10 winners of a national #FinHealthMatters Day essay contest created by CFSI. MetLife Foundationis a major sponsor of CFSI's ongoing consumer financial health work. Additional support for #FinHealthMatters Day and USFD provided by the Citi Foundation.