This week began my family's social distancing, work from home (#WFH), homeschooling experiment. If you're not already doing the same, odds are that you will be soon. Having completed the prerequisite reading (Social Distancing: This is Not a Snow Day,) my wife and I politely turned down invitations for play dates and get-togethers. We remain focused on doing our part toward flattening the curve. This means having three kids (four if you count me) at home with limited contact to the outside world. It's an adjustment for everyone. Whenever the kids start clashing, usually by late afternoon, we take a family walk around the block. On just day five, we find ourselves walking a lot!
What If This Takes Longer Than We Think?
Experts at The World Health Organization (WHO) tell us that things will get worse before they get better. Looking at Asia, quarantines and school closures have been effective so we are doing the right thing. There is no way to know how long this new reality that we are living in might last, but I think it's important to consider the possibilities.
In a press briefing on Monday, President Trump said of the White House task force, "They think August, it could be July… could be longer than that."1
Most California schools will likely remain closed for the rest of the school year according to Governor Gavin Newsom. "I would plan and assume it is unlikely that many of these schools, few if any, will open before the summer break," he said in a news conference.2
Bill Gates was asked in a Q&A Wednesday, "How long could this last?" His answer: "This will vary a lot by country. China is seeing very few cases now because their testing and "shut down" was very effective. If a country does a good job with testing and "shut down" then within 6-10 weeks they should see very few cases and be able to open back up."3
Complete Lack of Visibility
As I've told our kids, we've never lived through a pandemic like this so we are figuring this out as we go. Teachers are jumping on Zoom and Google Hangouts. Parents are learning how to homeschool. According to the Economist, almost a billion children have seen their schools close because of coronavirus. Let that sink in for a moment.
One of the biggest challenges right now is that we have no visibility. If I had a crystal ball, here's what I'd like to know.
When will coronavirus cases peak in the United States?
Will an onslaught of sick patients overwhelm our healthcare system?
What impact will this all have on our economy?
If you have insights or answers, please let me know. Here's what I've been thinking, and why I am wondering how long we'll be confined at home.
Do You Believe China?
Many people have asked me if I believe the data coming out of China and if the Chinese have actually contained the virus. If you don't believe the China numbers, I'd like to point you to look at other Asian countries like Japan, South Korea, Singapore, and Taiwan. These countries have demonstrated an ability to stem the spread of new cases to very small numbers. In fact, their biggest risk right now is new cases coming into their countries from inbound visitors. Notably, Taiwan has barred entry of foreign nationals for this very reason.
I had previously hoped that the United States could get ahead of the virus by seeing what has worked in the above named countries and preparing accordingly. Unfortunately, the number of cases in most Western countries are increasing at a similar trajectory, about 33% per day. The chances that Italy's challenges will be repeated here and other places are very real.
By some estimates, cases in the US are doubling every two days. Total confirmed cases worldwide have exceeded 245,000.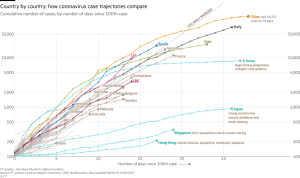 Seeing the Future in 10-14 Days
Since we've only just begun, we won't see the effects of social distancing and "shelter in place" for another 10 to 14 days. Meanwhile, we can look to Italy, a country that's about a week ahead of America's virus timeline, and the data is not very encouraging.
Fighting an invisible enemy like coronavirus is not simple and linear. Yesterday, Italy reported 475 new deaths from Covid-19, the highest one-day death toll of any country.4 Referencing the chart below, it was looking like Italian coronavirus infections had started to slow but the recent 4,000+ increase indicates that it's complicated.
Italy's national quarantine, restricting the movement of the population except for necessity, work, and health circumstances, was announced on March 9th and enforced by March 12th. Infectious disease and big data experts at the University of Genoa estimate the new cases will peak in Italy between March 23rd and March 25th.
Based on current data, quarantines may need to be extended throughout the Western countries.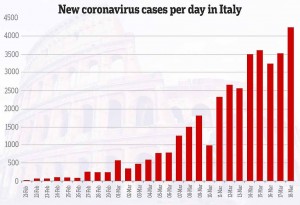 Lest you think that coronavirus is just a flu, I ask you to please watch this Sky News broadcast from the Papa Giovanni XXIII hospital in Bergamo — Italy's worst-hit city.