#GivingTuesday refers to the Tuesday after Thanksgiving and was a movement started in 2012 by the 92nd Street Y and the United Nations Foundation. This national day of giving was a response to the commercialization and consumerism that created Black Friday and Cyber Monday. #GivingTuesday has seen significant growth since 2012. Last year, it brought in over $45 million, a 63% increase over 2013. While this is impressive growth, it is merely a rounding error in comparison to Black Friday and Cyber Monday which are expected to bring in $13 billion in sales in 2015. Let's help flip that script and raise more money for charities in 2015!
Here was the impact of #GivingTuesday in 2014 (source: Case Foundation):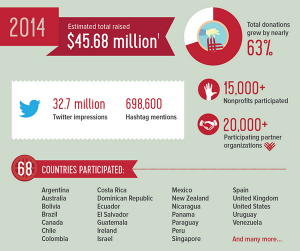 Over the past two years, Runnymede Capital Management has helped raise over $10,000 for the March of Dimes. Every day, thousands of babies are born too soon, too small and often very sick. With 1 in 10 babies born prematurely, the US has the worst prematurity rate among developed nations. This has to change. Let's help the March of Dimes and the thousands of other charities on #GivingTuesday. Make a donation today!
Here are three tips to help maximize your charitable impact on #GivingTuesday
Tip 1: Donate stuff that you don't use
While most donations today will be online, don't limit yourself to making cash donations. Make an impact by donating unused stuff from around your house. Last year I moved out of my condo and took the opportunity to donate clothing that was buried deep in my closet. Charities like Goodwill and the Salvation Army will even pick up your donations curbside. Just remember that tax laws do NOT allow charitable deductions for contributions of household items and clothing NOT in used condition or better; in other words, your stuff better be in decent condition, not worthless junk.
Tip 2: Double your impact with company matching
If you work for a larger corporation, don't forget to look into whether they will match your gift. About 65% of Fortune 500 companies match employee donations, yet the median employee participation rate for matching gift programs is just 9%. That leaves $6 to $10 billion in matching gift funds unclaimed every year, according to an estimate by Double the Donation. Those dollars could have had a huge impact for non-profits. Take the extra minute or two to see if your donation can have twice the impact.
Tip 3: Give highly appreciated securities
Since 2009, the S&P 500 has more than doubled and many investors are sitting on significant unrealized gains. While investors may be tempted to take some risk off the table, they also don't want to pay a huge capital gains tax. Donating assets such as appreciated stock that has been held for a year or more is among the most tax-advantaged items to grant to charity. Because the securities are donated rather than sold, capital gains taxes are not owed on the appreciation. Therefore the more appreciation the securities have, the greater the tax saving will be. It's a win win situation.

Will you be donating today? Do you have any other tips? Please leave them in the comments below.
By