The annuity business has grown in popularity as investors, especially those nearing retirement, look for options to protect themselves from stock market volatility and give them a decent income stream in retirement. With over $200 billion in annual sales, the annuity industry is big business with lots of salesmen trying to persuade you to make a purchase.
Today I will dig deep into the New York Life Secure Term Choice Fixed Annuity II which has been requested by several readers. It currently is one of the top 10 best-selling annuities on the market. Fixed annuities are more straightforward and less complex so this should be shorter than our typical review.
You will often hear that annuities are sold, not bought. This is exactly why I will go in depth into some of the most popular annuities because there is shockingly little information available about them. Most of the information comes from the companies that sell the annuities and they gloss over the fees, risks and downsides. More importantly, annuities have grown into extremely complex instruments which even the most seasoned professional may have trouble deciphering. It is of the utmost importance to make an informed decision. I have dealt with too many clients that have come to me asking for help getting out of an annuity and I can't help after the fact. Stiff surrender penalties can't be avoided for many years after you sign on the dotted line.
Perspective That You Can Trust
I am writing this blog from the perspective as a curious analyst. I am totally impartial as I am a fee-only registered investment advisor. I hope to bring a unique perspective to this topic drawing on my years of experience analyzing companies as a research analyst. I've met with hundreds of company CEOs and CFOs, including Steve Jobs and Richard Branson, and I will use my analytical skills to break down these complex instruments into something easier to understand.
While many investment professionals hate annuities, I do not believe that they are all bad and some of them can make sense as a small part of your investment portfolio. Annuities should never, I repeat never, be the large majority of your portfolio because of their lack of liquidity which is one of their biggest drawbacks.
Issuer Review: New York Life
It is important to look at the issuer of the annuity first because annuities are NOT a guaranteed investment of any sort. This is important to note so I will say it one more time. Annuities are NOT guaranteed. They are only backed by the ability of the issuing insurance company's ability to pay. Therefore if the issuer goes bankrupt, you are at risk of losing everything! States provide differing levels of protection but they are not funded reserves like FDIC insurance.
New York Life Insurance Company is the 3rd largest life insurance company in the US with about $570 billion in total assets under management. New York Life is rated A++ by A.M. Best, AAA by Fitch, AA+ by S&P, and Aaa by Moody's. In 2017, NYLIC achieved the best possible ratings by the four credit rating agencies.
Annuity Review: New York Life Secure Term Choice Fixed Annuity II
This annuity allows you to choose the guaranteed interest rate/surrender period from 3-7 years. The longer period, the higher the interest rate.
Maximum age for initial purchase: 90
Single premium
Minimum initial premium: $5,000; $10,000 for pension plans
Additional premiums: not permitted
Maximum premium: premiums of $1,000,000 or more require NYLIAC approval

Beware of Surrender Fees
After the first contract anniversary, policy holders can withdraw 10% of the accumulation value without penalty. Anything above that will be charged by the surrender fee schedule below. All policies have 7% surrender fees for the first 3 years!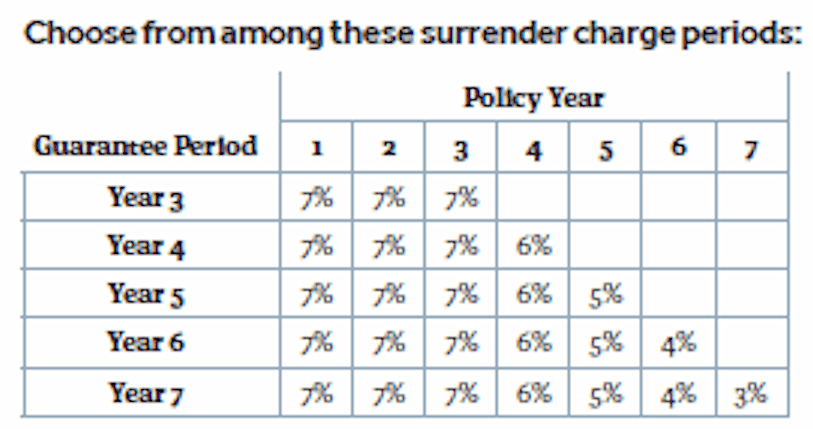 I believe surrender fees are one of the worst features of annuities. These are huge lockup fees and if you need the money, they sock it to you. This is why annuities should NEVER be a significant part of your investment portfolio because they lack liquidity when compared to bonds. Unless you are positive you will not need access to these funds, then annuities are NOT for you.

How will you likely be pitched this annuity?
Your agent will likely focus on:
principal protection: the money is 100% guaranteed
guaranteed return: interest rates are set by term that you choose
living needs benefit/unemployment rider at no additional fee – if you meet certain terms, you can withdraw your money penalty fee
tax deferral – you only pay taxes on your interest earnings when you take withdrawals or income payouts
Your interest rate depends on the time period you select as well as how much your premium is. The more that you deposit, the higher your interest rate. Here is the current rate schedule as of June 18, 2018. To check current rates, please visit here.

If you have additional questions about these options, please submit a question using our secure form. We will answer your questions within 24 hours via email. No strings attached, just a little free help to point you in the right direction.
Fees/Commissions
No fees are deducted from your account unless you take a withdrawal that is subject to surrender fees. However, that doesn't mean that this is a free product.
Keep in mind that your agent is earning a commission on this annuity of 2.5% if you are 0-80 and the policy is 5 or 6 year term; and a 3% commission for 7 year term. They are clearly incentivized to sell you an annuity over a bond which in my opinion can generate similar or greater returns and with better liquidity.
The Runnymede assessment
In summary, the New York Life Secure Term Choice Fixed Annuity II is pretty straightforward as you are guaranteed a specific interest rate depending on the term that you choose from 3-7 years. After the term ends, the rate is set on an annual basis so you can either accept it or surrender your policy. The minimum rate guarantee is 0.05% and the maximum is 5%. This is basically a fixed income (aka bond) substitute so as long as you are using it as a safe part of your portfolio, then it will be ok. Just be sure that you won't need the assets above 10% per year or you will be subject to surrender fees and you don't want to trigger those.
For most people, this can work as part of a "bond" ladder or part of your portfolio that you want extremely conservative. Personally, I don't see the benefits of choosing an annuity like this one over bonds. The rates aren't very good even when compared to the safest bonds US Treasuries. Today 3-year Treasury Notes yields 2.67% which is higher than this annuity guarantees. Yes, the earnings aren't tax-deferred but if you take a little more risk in high-grade corporate bonds, you can easily beat these returns and maintain 100% liquidity.
If you are dead set on this annuity, then you may want to consider the MVA version which provides a slightly higher interest rate.
Thanks for sticking with me on this annuity review. I learned a lot in my research process and I hope you are able to make a more informed investment decision because of it. Please don't let your agent pressure you into a sale before you have made an informed decision. Since annuities lock you into a long-term contract with stiff surrender fees, please be sure to take your time to make the best possible decision for you and your family.
Have questions about this Annuity?
If you're considering this annuity and have additional questions, feel free to reach out. You can contact us via our secure contact form. We will answer your questions within 24 hours via email. No strings attached, just a little free help to point you in the right direction.

Have you purchased this annuity or are you doing your due diligence? Please share your experience in the comments section below.