""I want the easy
Easy money
Easy money
I want the good times
Oh, I never had
I want the easy
Easy money
I want the good life
I want it bad""  — Billy Joel
Central Banks are easing again
Economies around the world have been slowing and the collapse in oil prices kept inflation close to zero, well below the 2% targeted by central bankers in the developed markets. These developments have led to another round of global monetary policy easing in the first few months of 2015. The ECB led the charge with a plan to purchase at least €1.1 trillion over the next 18 months. This will push their balance sheet toward the Fed's $4 trillion mark by year end 2015. But the ECB wasn't alone as the PBOC and 15 other central banks eased monetary conditions since the start of the year. Switzerland, Sweden and Denmark cut their key policy rates into negative territory!
The Fed turns cautious on raising rates
With the rest of the world easing, the Fed is likely to get more dovish on the margin. At the beginning of the year, economists were expecting the Fed to raise rates by mid-year. However given recent weak economic data, traders are now betting on an October or December timetable. We don't believe that the Fed will raise rates at all in 2015 because inflation is likely to remain very low and GDP growth expectations continue to fall.
Easy money
With monetary conditions getting easier in 2015, stock markets should be the beneficiaries over the short term. Germany and France produced huge gains in the first quarter of nearly 20%. Yet there is increasing skepticism about the beneficial effects of quantitative easing on the real economy and concerns about asset bubbles. Here is chart of all the major policy moves which were largely all surprises versus expectations.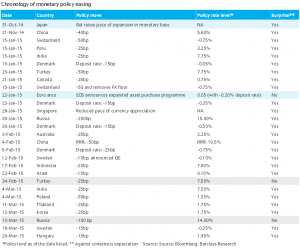 "Janet Yellen – Caricature" by DonkeyHotey is licensed under CC BY 2.0
By