"The 19th century belonged to England, the 20th century belonged to the U.S., and the 21st century belongs to China. Invest accordingly." – Warren Buffett
American investors should be looking to China as a portion of their investment portfolios. In a recent survey by the American Chamber of Commerce in Shanghai, US companies in China are shifting their focus to the service sector in line with the Chinese government transitioning the economy from being the world's manufacturer to a service oriented economy. This strategy makes sense and investors should follow US corporations as the investment opportunities are plentiful and exciting.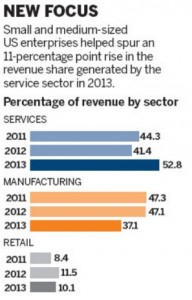 For the first time, services accounted for more than half, or 52%, of US companies' sales in China in 2013, up 11% from 2012. "It is important to keep in mind that China's leadership has prioritized the development of the country's service sectors, and American businesses are world leaders in these areas," said Kenneth Jarrett, president of AmCham Shanghai. Tim Huang, COO of Bank of America Merrill Lynch in Shanghai echoed these sentiments saying, "I've seen a growing number of our clients in the service sector in the past five years and I expect this trend to continue."
Don't be scared of the negative headlines
While you may be interested in Chinese growth, you may also be scared of the headline risk. The US media is infatuated with negative stories about China. The Wall Street Journal recently wrote about the Chinese currency tumbling. It actually fell just 1% from its all-time high. Others say that China is having a hard landing and worry about its GDP growth. The world's second largest economy is still growing over 7%! When is the last time the US grew at that pace? Economists have been forecasting a Chinese banking crisis for over 10 years now. The last time I checked, it was the US banks that almost took down the global financial system.
Instead of reading attention grabbing headlines, you should focus on how US businessmen feel about the outlook in China. To them business is thriving. In the aforementioned study, 74% of firms reported profits for 2013 and 75% saw positive cash flows. More importantly their outlook for the next 5 years in China is very bullish. 86% of respondents said they remain "optimistic or slightly optimistic" about forecasts for China's business prospects in the next 5 years.
Investing in the Chinese service sector
"With my money I'm going to go along with the Chinese government."  — Jim Rogers
The Chinese government has spelled it out for everyone in their current 5-year plan that they are shifting their focus to service sector growth so as an investor you should follow the leader. Their plan states very clearly that they will accelerate the development of production services which includes financial services, logistics, high tech services and business services. They also plan on vigorously developing the life services industry which includes supermarkets, tourism, restaurants, healthcare and nursing services. These sectors will get the benefit of government policy and incentives to grow over the next several years.
The Shanghai Composite is down over 3% in 2014 and continues to languish. However Chinese ADRs listed in the US continue to boom along and are putting up huge gains. Over 21 ADRs of Chinese service companies are already up double-digits in 2014. Check out the table below for the impressive results.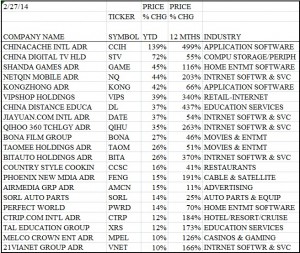 Chinese ADRs are off to a white hot start following a huge 2013. The average return of 193 ADRs is 14.7% through the morning of March 4th – easily outpacing the S&P 500 return of 1.4%.
If you don't want to take the risk of picking individual stocks, there are some exciting Chinese ETFs to choose from. First is the KraneShares CSI China 5 Year Plan (KFYP) which invests in companies whose primary business will be important in the Chinese government's current 5 year plan. The portfolio is highly concentrated in service and consumer stocks. It is up 31.7% since its July 2013 launch. One of the hottest sectors in China is the tech sector. The Kraneshares CSI China Internet Stocks (KWEB) is up over 43% since its August launch. Its top holdings are Tencent, Qihu 360, Baidu and Ctrip. Another option is the Guggenheim China Technology ETF (CQQQ) which is up 57% in the last 12 months which far outpaces the American QQQ +35%.
For other ways of investing in Chinese growth, please read my blog post from September 2013 called "Follow the Leader: Investing in Chinese Service Sector Growth"
In the end, treat your Asian investment as you would any other. You have to do your homework, follow your instincts and be sure to invest in the highest quality companies. If you can't do it yourself, look for a registered investment advisor that has experience and the know how to invest in the service sector.

Are your investing in China? Why or why not?
Header photo from Unsplash Li Yang
By