After the historic low volatility seen in 2017, the first four months of 2018 have felt especially turbulent even though the market has largely moved sideways. The 24 hour news cycle has been louder and gives negative news more amplification. Worries this year have focused on the potential of trade war with China, rising inflation and interest rate hikes. While these are certainly legitimate concerns, we suggest to our clients and readers that you often need to turn off the news and simply focus on the fundamentals. The good news is that fundamentals from US corporations are still improving and point to a bull market that should continue to grind higher for the rest of the year.
Corporate profits are strong
In our first quarter commentary for clients, we wrote:
The stock market needs a catalyst to get it moving back on a bullish trajectory. It may be first quarter earnings season which starts in the second week of April. Earnings season should be extremely positive as companies will benefit from lower tax rates, and multinationals will see a boost to their earnings thanks to the weak dollar.
This has played out as we expected. With over 91% of S&P 500 constituents having reported, it has been a historic earnings season with the highest quarterly reported earnings ever at $32.76 or +19% year over year.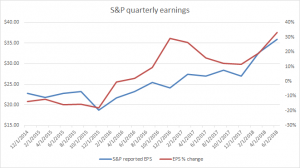 While some skeptics have been questioning the quality of earnings growth, companies are also seeing improved profitability and top line expansion.
Operating margins hit a record high of 11.4%. Revenues were also the strongest we have seen during this bull market cycle with 9.5% year over year gains.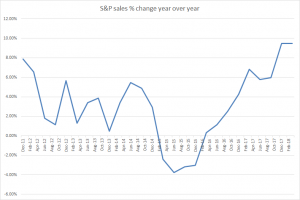 All in all, it was a strong earnings season and this trend should continue through year end. Corporations are benefiting from strong consumer confidence driving sales growth and earnings are growing even faster thanks to tax reform and share buybacks. We expect this to continue the bull market run for the next several quarters.
"Bull Market Sign" by ota_photos is licensed under CC BY-SA 2.0