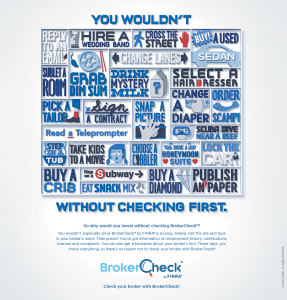 I have been doing an increasing number of Free Portfolio Reviews lately. It is nice to know that investors haven't yet entered the summer doldrums. Typically, our team will review an investment portfolio to help you understand:
If you are taking too much risk.
If you own investments that are unsuitable or inappropriate for you.
If you are paying too much in fees.
For those whose account is currently being managed by a financial advisor, I like to also search BrokerCheck in order to do a quick background check on the advisor and his/her firm. In this post, I share with you how I use BrokerCheck in hope that it will inspire and help you use it too.

What is BrokerCheck?
Very likely you've used TripAdvisor when planning a trip or Yelp when searching for a restaurant. Unfortunately, I would bet that you've never used BrokerCheck. If so, you are not alone. In my informal and unscientific poll, I found that fewer than 1 in 10 investors had heard of BrokerCheck. While TripAdvisor and Yelp publish user-generated reviews, BrokerCheck does not. The Financial Industry Regulatory Authority (FINRA), the largest independent regulator that oversees the brokerage industry in the U.S., created BrokerCheck as a resource for investors to check up on financial advisors. For your convenience, FINRA has included information on SEC registered advisors too – providing you with a one-stop search. What you get is regulatory red flags about individual brokers/advisors, including complaints, regulatory actions, terminations for cause and personal bankruptcies.
Caveat Investor
A brief disclaimer before we jump in. FYI, FINRA is a private corporation that acts as a self-regulatory organization (SRO), previously known as the National Association of Securities Dealers, Inc. (NASD.) Yes, you read that correctly. FINRA self-regulates, i.e. brokers regulating brokers, so as a consumer be aware of that fact. FINRA is a non-governmental organization that regulates member brokerage firms and exchange markets. The US Securities and Exchange Commission (SEC) is the government agency that acts as the ultimate regulator of the securities industry, including FINRA.
The information on BrokerCheck is largely self-reported and negative disclosure events may be missing or have been expunged from a broker's record. The WSJ reported last year that more than 1,600 stockbrokers have records that failed to disclose bankruptcy filings, criminal charges or other red flags in violation of regulations. Alarmingly, as reported by CNBC, the Public Investors Arbitration Bar Association, a lawyers' group, found that brokers who asked arbitrators to recommend expungement got approval in 96.9 percent of cases that were settled from May 18, 2009 to Dec. 31, 2011. Indeed, information like this has got to make one question the effectiveness of self-regulation!
Read Between the Lines
Despite its shortcomings, BrokerCheck is still a resource that is available and should be used. Knowing what you know, you should read between the lines. Any and all red flags should carry significant weight.
Last week, I performed an advisor and firm search at BrokerCheck for someone in Minneapolis. Sometimes, the information found in the detail report can be confusing to the layman. Let me outline what I found and my interpretation of what I read.
My BrokerCheck Findings
Broker Investment Adviser report:
16 Disclosures (15 customer disputes and 1 termination)

28 years in securities industry
First, don't be overwhelmed by the 34-page report. Let's dig in and start first with the termination. "RR (that stands for registered representative) was terminated without notice…" Okay, he was fired, and not with 2-weeks notice. It was an abrupt departure. THAT'S BAD. Remember part of what you read is the broker's statement so in it, he attempts to defend himself. He concludes by saying that he "has never taken any action that is inconsistent with a client's wishes."
Keep that in mind; but let's read on, and take a look at the customer disputes (paraphrased, and underline added by me for emphasis):
Customer alleges recommendation to replace a variable life insurance policy was

not suitable

.

Customer alleges the recommended investment options were

not suitable

and the alteration of forms.

Customer alleges representative recommended a larger investment in a variable annuity than was necessary.

Client alleged the agent made

unsuitable

securities product recommendations.

Client alleges that the recommended investment option was

not suitable

.

Customer alleges the investment the rep made were

unsuitable

.

Client alleged the variable annuities purchased by them were

not suitable

.

The customer alleges that the variable annuity sold to her was

not suitable

.

Regarding purchase of a variable life insurance policy, the client alleged

misrepresentation

concerning the duration of premium payments.

Regarding the purchase of insurance policy, the client alleged

misrepresentation

at the point of sale.

Regarding purchase of a variable life insurance policy, the client alleged

misrepresentation

concerning the abbreviated payment plan.

Client alleges

misrepresentation

concerning his variable annuity and switching his annuities unnecessarily.

Regarding purchase of a variable life insurance policy, the client alleged

misrepresentation

concerning the abbreviated payment plan.

Regarding purchase of insurance policy, client alleged

unsuitable

product recommendations.

Customer alleges the representative

made representations

with respect to guarantees and withdrawals

that were false

in connection with the purchase of two annuities.
See a pattern here? Wow. Clearly, 15 separate clients filed complaints that directly contradict the statement that the broker made about working within his clients' wishes. By the way, it should be noted that this advisor is still active and very much in business. If you were about to open a new account with him, wouldn't you want to know all of this?
We're not finished yet. Next step, we will do a search on the registered investment adviser — the FIRM — that handles the broker's investment management services.
Report Summary for this Firm:
5 disclosures (5 regulatory events; 0 pending; 5 final; 0 On Appeal)
Hey, 5 is not too bad – right? Well, let's take a closer look. Again, I will paraphrase the allegations.
Corporation failed to supervise an agent who sold sham securities to clients and used the money on his personal and business expenses.




Sanction Details: Monetary/Fine $200,000.00

Failure to adequately supervise the activities of a registered representative and permitting a registered representative to hold himself out as a registered investment adviser representative.




Sanction Details: Monetary/Fine $6,250.00

Agent held himself out as an investment adviser representative when he was not so registered for approximately three years.




Sanction Details: Monetary/Fine $54,668.53

Firm engaged an individual as a broker-dealer agent; the firm failed to discover that he had been preparing fraudulent monthly statements that improperly inflated the value of client holdings and had been forwarding those statements to clients.




Sanction Details: Monetary/Fine $75,000.00

The firm's supervisory system did not provide for supervision reasonably designed to achieve compliance with respect to the applicable securities laws, regulations and NASD rules.




Sanction Details: Monetary/Fine $12,500.00
When there are sanctions that include significant monetary fines, these regulatory events should be considered seriously. The larger the dollar amount, the more it's a smoking gun.
CONCLUSION: If I were the client of either this broker (registered representative) or the firm, my trust would be shaken and I would be very concerned about my account.

Related articles:
Double Your Pleasure at BrokerCheck With Two Types of Advisor Searches

70,000 Brokers Don't Have a Clean Record. Check Yours At BrokerCheck.
I hope that you found this exercise helpful and informative. Have you ever used BrokerCheck? If you found red flags on your advisor or their firm, would you make a change?
By