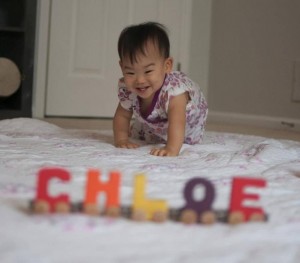 As a new father, I marvel at all the new things my one year old daughter Chloe does. But like all new parents, I joke and mostly fear that the cost of education will be in the millions by the time she graduates high school. While I pray that education inflation slows from its ridiculous pace of 7%+ per annum, I know that I need to prepare for the worst which means saving as much money as possible sooner rather than later.
While this seems daunting, I will share an easy and painless way that I saved $2000 for Chloe in less than one year. You may expect me tell you to cut out your Starbucks, fine dining and travel, but I will actually tell you to do the opposite. The first step to saving in the process is to SPEND money. Yes, spend money.
Shop (Online) Til You Drop
Our generation tends to shop more and more online. Outside of groceries, I'd guess that online shopping accounts for more than 75% of purchases made in my household. How would you like to save 10% or more on most of your online shopping?
The first step in this process is to sign up with Upromise.com. The site is built off the same premise as sites like Ebates and Fat Wallet where you earn cash back when you shop at a partner site. With most of Upromise's partners, you can save at least 5% off your purchase and as high as 50% off Angieslist right now. You can save an additional 5% if you use the Upromise credit card. I know that you probably don't want another credit card, but for another 5% off and no annual fee I feel like it is a no brainer. Unfortunately Amazon isn't a participating partner, however its Diapers.com site is a partner.
On our first vacation with Chloe, we saved 25% off our hotel room by booking through Travelocity! We saved 10% by clicking through the Upromise website, another 5% using the Upromise credit card and an addition 10% with an email coupon direct from Travelocity. It was an unbelievable trip and we saved in a big way.
In less than a year, I have saved over $1,800 by shopping with Upromise.
Grow it even more in a 529 plan
You can have your savings automatically rolled into a participating 529 plan of your choice every quarter. Because New Jersey offers no tax advantages to contribute to an in-state plan, I chose to invest the money in New York's 529 College Savings Program Direct Plan which is highly rated by Morningstar. The fees are low at 0.17% because the assets are invested in Vanguard Funds. This year has been a good year earning more than $200 on invested assets.
Before selecting a 529 plan, you should look into the deductibility of your 529 plan contributions. This can actually save on your yearend state income tax bill but you will likely have to contribute to an in-state plan. If Upromise doesn't have a direct relationship with the 529 plan, you can instead receive a check to deposit into the plan of your choice. For those in the Tri-State Area, New York and Connecticut offer deductions of up to $10,000 per joint filing; while New Jersey offers no deduction at this time. For those in other states, please click the button below to find out more.
The end result = big savings!
So you may think that saving $2000 in one year doesn't mean much when tuition may top $100,000 if rising costs hold trend. While this is true, you can make a considerable impact if you save $2000 every year and earn a decent return. Assuming Chloe goes to college in 2030 when she is 18 years old and earning a conservative 6% return on the assets, I will have saved $65,650. If I can earn a return of 10%, I will have over $100,000.
This is just one way to help save for your children's college education and I will share more tips with you down the road. For now, have fun shopping and saving!
Do you have any great tips for college savings for other new parents out there? Please share them in the comments section.

By