In a speech last Wednesday, Fed Chair Janet Yellen said that persistently low inflation poses a more immediate threat to the US economy than rising prices. This is a very curious comment as food inflation has been soaring in 2014 thanks to droughts in California and Latin America as well as the central banks printing presses running hot. Pork, beef and shrimp prices are all hitting all-time highs.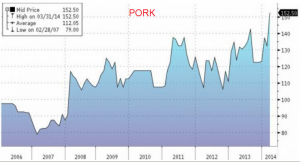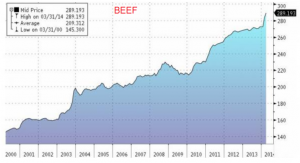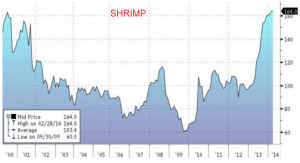 And for Starbucks fans, coffee prices have gone parabolic. Since November, coffee prices have risen over 80%.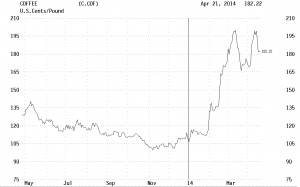 Chris Christopher, an economist at IHS Global, wrote in a recent note:
Rising prices are "a kick in the stomach for those households that have a hard time making ends meet."  "Main story" of March CPI was food, with meat, dairy and fresh vegetables contributing to higher costs. Outside of food, inflation "relatively bland." However, "living standards will suffer as a larger percentage of household budgets are spent on grocery store bills, leaving less for discretionary spending."
While the Fed doesn't see any bubbles at historic highs, consumers and restaurants certainly see it hitting their wallets. Fast food chain Noodles & Co. says that it costs 29% more to add shrimp to pastas this year. Chipotle said that it is paying 25% more for steak and it expects cheese and avocado prices to increase this year. Because of this, Chipotle plans to increase menu prices for the first time in 3 years. Chipotle CFO Jack Hartung said, "We're at a point where we need to pass along these rapidly rising food prices."
The US economy is highly reliant on consumer spending which constitutes roughly 70% of the economy. With food prices on the rise, it leaves consumers with less to spend elsewhere. This is something to monitor closely in 2014 and perhaps the Fed will wake up and smell the (more expensive) coffee.

Are you feeling the effects of inflation?
By