Over the last month, the bull market looked to be running on tired legs. Small cap stocks (Russell 2000 Index) fell 11% since the beginning of September while the S&P 500 dropped 7%. Many investors have been waiting for a much needed breather in the market runup; however now people are asking, ""Is this bull market over?"" The obvious answer is definitely maybe.
Bull market duration
Looking back at previous cycles, the current bull now ranks 2nd in terms of percentage gain at 203% and is only a couple of months away from being the 2nd longest cycle in the post war era. The current bull is now in its 66th month while the average bull ran for just 43 months. Needless to say, it sure feels like we are already on borrowed time. With the Fed winding downs its latest asset purchase program, one wonders if this bull market will turn into a bear in short order.
Silver Lining
Just because this market cycle is running longer than normal doesn't mean that it is going to end right now. In fact, some would argue that there is too much fear already in the market. The Eurozone is heading into a recession, ISIS is creating geopolitical tensions; and Ebola is spreading like wildfire. Typically when there is so much fear in the market, then it is difficult to have a bear emerge. And if you listen to Warren Buffett, you need to be buying fear not selling it.
CNN's Fear and Greed Indicator hit zero yesterday. This was the first time since 2011 when fears of a banking crisis in Europe emerged.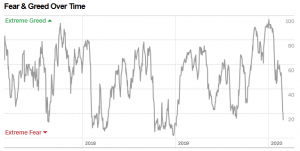 The market is extremely oversold right now and is likely going to have a relief rally. After that it would make sense to take some profits off the table and wait for the next downdraft.
Are you buying or selling? Is the next bear market right around the corner?
"Bull Market Sign" by ota_photos is licensed under CC BY-SA 2.0
By