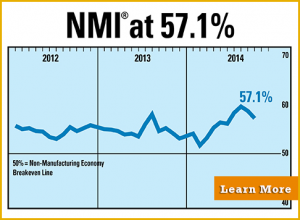 The US service sector slowed more than expected in October, marking the second straight month of slower growth and its lowest level since June. However employment hit a new nine-year high. The survey showed the key service sector, which accounts for roughly two-thirds of US GDP, remained solidly in growth mode.
The Institute for Supply Management (ISM) reported that its service index fell to 57.1 from 58.6 in September. This was slightly below economists' forecasts of 58. This marks the 57th consecutive month of growth. A reading above 50 indicates the sector is expanding.
The New Orders Index rose to 59.1, down 1.9 percentage points from September's reading of 61.  The Business Activity Index decreased to 60, down from 62.9 last month.
Service sector employment remained a bright spot in the ISM report. The employment index increased 1.1 pecentage points to 59.6 percent and it was the 8th consecutive month of growth. Employment has rebounded rapidly in the last several months from a four-year low touched in February, when a harsh winter contributed to a sharp slowdown in economy activity.
The majority of survey respondents' comments indicate that business conditions are favorable; however there is an indication that there continues to be a leveling off from the strong rate of grwoth in the preceding months.
The Institute of Supply Management reported that 16 of the 18 non-manufacturing industries reported growth in April — listed in order — are: Construction; Retail Trade; Agriculture, Forestry, Fishing & Hunting; Wholesale Trade; Transportation & Warehousing; Other Services; Professional, Scientific & Technical Services; Management of Companies & Support Services; Educational Services; Information; Health Care & Social Assistance; Mining; Accommodation & Food Services; Utilities; Real Estate, Rental & Leasing; and Public Administration. The two industries reporting contraction in October are: Arts, Entertainment & Recreation; and Finance & Insurance.
Respondents of the survey said
"Business is steady with new product launches." (Information)

"The general business outlook is favorable. Approaching 2015 with cautious optimism." (Finance & Insurance)

"Healthcare market continues to see challenges and uncertainty." (Health Care & Social Assistance)

"Economy appears to be slowing. Fears of ISIS, Ebola, etc." (Professional, Scientific & Technical Services)

"It appears that customers are beginning to engage which is producing sales. Not where we want to be, but continuing to see improvement." (Retail Trade)

"Sales very sporadic. It's up and down weekly." (Accommodation & Food Services)

"Business activity remains robust here." (Utilities)

"The past few months have been record months for us in terms of sales, but we are seeing margin pressure." (Wholesale Trade)
Click here for the full release.
By