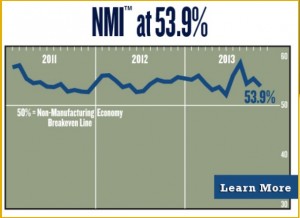 The US service sector firms grew at the weakest pace since June, evidence that consumers and businesses are more cautious heading into year end.
The Institute for Supply Management (ISM) reported that its service index fell to 53.9% in November, a decrease from its 55.4% October reading. This marks the 47th consecutive month of growth. A reading above 50 indicates the sector is expanding.
Hiring fell to the lowest level since May as the Employment Index decreased to 52.5%. The government is set to report last month's hiring figures on Friday.
Overall the ISM index still points to a level of steady growth albeit slowing. We still believe that the service sector presents a very attractive investment opportunity.
The Institute of Supply Management reported that 11 of the 18 non-manufacturing industries reported growth in October — listed in order — are: Transportation & Warehousing; Retail Trade; Management of Companies & Support Services; Other Services; Information; Agriculture, Forestry, Fishing & Hunting; Wholesale Trade; Finance & Insurance; Public Administration; Educational Services; and Professional, Scientific & Technical Services.
Respondents of the survey said:
"Optimistic fourth quarter in sight." (Information)
"Slight slowdown in occupancy." (Accommodation & Food Services)
"Things are improving very slowly." (Finance & Insurance)
"Business is steady at this time, with little fluctuation from last month." (Health Care & Social Assistance)
"Regulatory uncertainty is having an effect on consumers who are spending, but not aggressively." (Retail Trade)
"Business remains steady, with gains in new orders and projections into 2014." (Professional, Scientific & Technical Services)
"We are clearly seeing a pickup in activity, which began in August." (Wholesale Trade)

Click here for the full release.