Berkshire Hathaway is close to a milestone that Warren Buffett doesn't want to achieve. On Friday, the company reported that it held $99.7 billion in cash at the end of the second quarter. Thanks to a collection of businesses that generate lots of cash, Berkshire's cash has been growing steadily in recent years. Because the company doesn't pay a dividend and rarely buys back its own stock, Buffett is on the hook to find ways to invest those funds. The huge cash hoard shouldn't be taken as a pure bearish signal. Remember he didn't sell assets to raise cash. In fact, he would love to spend some and he said "I hate cash" earlier this year. However, he is having trouble getting the right company at the right price.
"The question is, 'Are we going to be able to deploy it?'" he told the thousands of shareholders gathered at the annual shareholders meeting in Omaha, Nebraska. "I would say that history is on our side, but it'd be more fun if the phone would ring."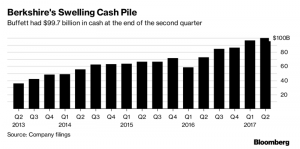 Berkshire's challenge
Buffett would love to spend his cash pile but thanks to ultra low interest rates, the competition for quality assets is higher than ever. Here is what Charlie Munger said at the shareholder meeting:
"The general field of buying whole companies has gotten very competitive. There is a huge industry of doing these leveraged buyouts… They can finance practically anything in about a week or so through shadow banking. They can pay very high prices and get very good terms. It is very very hard to buy businesses. We've done well because there is a certain small group of people that don't want to sell to private equity. They love the business so much that they don't it just dressed up for resale."
Buffett echoed these comments in a CNBC interview:
"I mean we are investing. But [cash] is a holding position until you find something else. But the very fact that interest rates are that low makes it hard for us to buy other things because other people buy things with borrowed money, and borrowed money is so cheap… If we are competing with equity money against slim equity plus a lot of debt, we're at a disadvantage."

Are you having trouble finding good investment ideas?
"Warren Buffett – Caricature" by DonkeyHotey is licensed under CC BY 2.0