Berkshire Hathaway just reported its most profitable quarter ever. Operating income topped $4.3 billion, far surpassing analyst expectations. Thanks to Warren Buffett's savvy investing, Berkshire is now sitting on its largest stockpile of cash in its storied history. Cash and cash equivalents are above $55.4 billion for the first time ever and is 55% higher than a year ago.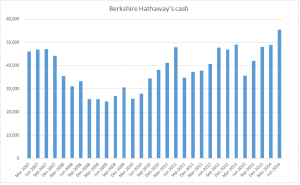 As you can see from the chart above, during the global financial crisis, Buffett had no fear and was buying big, using his cash to make a string of big deals which reaped huge returns. In the 3rd quarter of 2007, Berkshire's cash stockpile was $47 billion but by mid-2009, he spent the cash down to $24.5 billion. He snatched up preferred shares in Goldman Sachs and General Electric; and he made Berkshire's largest acquisition ever, the $26.7 billion purchase of Burlington Northern Santa Fe railroad.
The S&P 500 has gone up 188% since its March 2009 low and today it is tougher to find attractive deals that are the foundation of Buffett's value investing strategy. And Buffett isn't the only one with a growing cash pile. According to Preqin Ltd, private-equity firms are sitting on a record $1.16 trillion of capital as of July.
Does Buffett believe the market is overvalued?
In a recent CNBC interview, Buffett expressed his view that stocks aren't "too frothy." However his actions speak louder than words. Berkshire's record cash positions clearly show the difficulty in finding value in the public markets. Furthermore, Buffett's own valuation indicator points to frothy markets. Back in 2001, Buffett remarked in a Fortune Magazine interview that Market Cap to GDP "is probably the best single measure of where valuations stand at any given moment." This metric can be thought of as an economy wide price to sales ratio.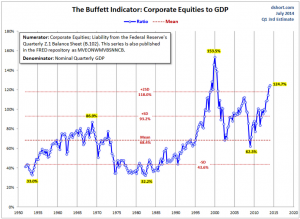 Using the Buffett indicator, the market looks to be trading at a very lofty valuation. Since 1950, the market has traded at a higher multiple just once which was the internet-bubble peak. Today we trade at a higher level than the 2007 housing-bubble peak and one wonders if this is another peak. The bull market is running on tired legs and the Fed taper is coming closer to an end. Its probably time to build your own stockpile of cash so you can redeploy with Warren during the next bear market.

Are you building cash reserves?
 photo credit: Fortune Live Media via photopin cc
"Warren Buffett – Caricature" by DonkeyHotey is licensed under CC BY 2.0
By