All the headlines for the past few days have been focusing on the potential government shutdown which takes place at midnight tonight. It doesn't appear that either side is willing to back down at this point and the best case to avoid a shutdown may be another short term deal. But I'm not here to talk about politics and the politicians inability to compromise and find middle ground. We have to consider what the shutdown means to our clients' investment portfolios.
Today the market shrugged off any worries of a shutdown. The S&P 500 set a new all-time high finishing another 12 points higher to 2810.30. At this point, it is clear that the market is unphased by the Washington sideshow.
The last government shutdown occurred in 2013 and lasted 17 days from September 30th to October 17th. Here is how the S&P 500 performed.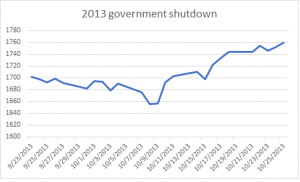 As you can see, the market did trade off slightly during the first 10 days of the shutdown but it traded down just 2% so that it is pretty insignificant. By the end of the 17 days, the market had traded sideways and then traded up after the shutdown ended. We would expect similar action if there is a shutdown this year. We aren't worrying about this and wish that both sides would come to a long term agreement so we don't have to hear about it every couple of months.
"Lincoln Memorial: Closed Due to Government Shutdown" by NPCA Photos is licensed under CC BY-ND 2.0