This week, we are excited to announce the launch of the Inspired Money podcast.  The idea of producing a podcast began when I attended FinCon Masters New York where I met business podcasters Philip "P.T." Taylor, James Altucher, and Farnoosh Torabi.  I hope to see them again next month at FinCon Dallas because my article What Financial Health Means to Me was named one of 10 winners of a national #FinHealthMatters Day essay contest granting me entry to the the world's largest financial content expo.
It Started With Blogging
5 years ago, when asked if our business should have a blog, my answer was, "Who's going to read it?"  A year later, we started the Runnymede blog.  It has been fun writing about financial subjects that we love so much.  And as it turns out, a lot of people read it — over 340,000 people since starting 4 years ago!  That's more people than live in Iceland, in case you were wondering.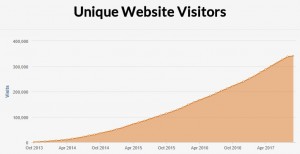 Changing Consumer Habits
When buying a new cell phone, washer/dryer, or bluetooth speaker, what do you do?  You might ask a friend for advice, but even if you get good information, odds are, you'll also start searching Google.  I learned that with professional services and investment advice, it is no different.  When someone has a question about charitable donations from an IRA, Google is your friend.  And you'll probably get many more answers.
Listening to Podcasts
Just like our shopping habits have been transformed by the Internet, what we listen to has also changed drastically.  When driving to work, I used to listen to music or morning talk radio.  Sometimes, I listened to a CD, remember those?  Today, I've been listening to podcasts.  Smart phones makes it easy to subscribe to shows, download, and listen to what you want, when you want it.  Similar to the way Netflix freed viewers from major network schedules, podcasts give listeners on-demand audio programming.  I've been listening to Masters of Scale with (LinkedIn founder) Reid Hoffman, We Study Billionnaires, and StartUp.  I am not alone.  Podcasts have been growing in popularity.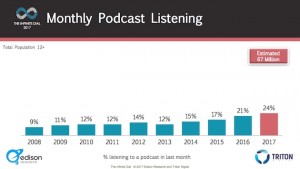 Here are some quick stats:
Just under a quarter (24%) of US consumers say they have listened to at least one podcast in the past month (the monthly podcast audience), up from 21% in 2016 and 9% in 2008.
Some 56% of consumers who have listened to a podcast in the last month are men; 44% are women.
More than two-thirds (69%) of monthly listeners say they consume podcasts on a mobile device, up from 42% in 2013.source: MarketingProfs
Inspired Money
I created my show to encourage people to talk about money.  Each episode, I will interview an interesting person to help listeners get inspired, shift their perspectives on money, and achieve incredible things.  Here's the trailer.
In addition to reading our blog, I hope that you'll listen to our podcast episodes at inspiredmoney.fm.  Also know that the concept of the show is still evolving.  Please let me know what you're interested in hearing and how we might improve the show.  If you could spare 3 minutes, I'd truly appreciate a review at iTunes.
Want to be an inspired money maker? Do something that scares you. Do something that's going to make you better. Do something to give back in a bigger way to the world.
We are excited to see where it goes.

Do you listen to podcasts?  What are your favorite shows?