This is one of my favorite posts to write every year as we get to look back on Wall Street predictions and see how they panned out. We have done this in 2014, 2015, 2016, 2017, 2018, 2019, 2020, and 2021 so it is a tradition to see which strategists did well and which missed the mark.
Last year, the strategists predicted a solid up year market for 2021 with an average target of 4076 or +8% for the S&P 500. I noted that "this is one of the most bullish predictions since 2014" and that proved to be the case. Even though the strategists were bullish, they weren't bullish enough as the market put up its second straight year of double-digit gains and 2021 was up over 20%.
Last year's biggest bull was JP Morgan's Dubravko Lako-Bujas at 4400 and he fell well short of the S&P's current 4681. John Stotlzfus and David Kostin were tied with the 2nd most bullish forecasts of 4300.
Now let's take a look at their thoughts on 2022…
Predictions for 2022
After looking at all the Wall Street reports, here are the targets from Wall Street's top strategists.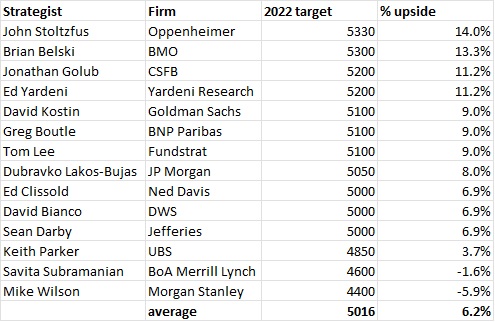 This year, the strategists have a very wide range of opinions with the 2nd biggest dispersion in a decade – the only bigger one was 2018 and we know that ended up being a poor year ahead for the markets with a -6.6% for the S&P 500.
On average, the strategists are still predicting a solid year for the S&P and the average sits at 5016 or +6.2%.
The most bullish on the street is currently Oppenheimer's John Stoltzfus and BMO's Brian Belski; and four strategists are still looking for double-digit returns for the 3rd straight year for the S&P 500.
The two bears on the list are Morgan Stanley's Mike Wilson with a target of a -6% decline and BoA's Savita Subramanian who is looking for a 1.6% decline. Note that Wilson and Subramanian have consistently been in the lower quartile in their projections and have very conservative targets.
Note that the Runnymede investment team will discuss our outlook on 2022 on our quarterly webcast in the next couple of weeks. If you are interested in attending, please email us at firm@runnymede.com.
Stock market nirvana ahead
Stoltzfus is the biggest bull on the street in 2021 and he is a long term bull. He sees improved earnings ahead and expects tech, consumer discretionary, financial and industrials to be the biggest beneficiaries.
"Hopefully, next year the Covid-19 and its nasty variants move into the rear-view mirror," he said. "We also expect to see the Federal Reserve successfully manage the process of tapering."
"We expect a certain element of slowing in segments of the economy shuttered or partially shuttered [because of the pandemic]. But we have technology and science that brought us to the dance, and they will take us out of the dance when it comes to the normal," Stoltzfus explained on Yahoo Finance Live on his upbeat call for stocks.
Brian Belski is also bullish about the year ahead.
"Ultimately though, we believe any price weakness resulting from these concerns will prove to be buying opportunities as the positive fundamentals underpinning US stocks remain in place, in our view. Indeed, corporate earnings results have far exceeded expectations so far this year with S&P 500 companies posting record levels of EPS growth, surprises, and beat rates during the first and second quarters, and Q3 earnings also tracking to exceed Street forecasts with 2021 & 2022 annual estimates being revised higher by analysts. On top of that, the US economic growth outlook remains solid and could improve further as the impact of the COVID-19 pandemic continues to decelerate."
The Timid Bears
Now onto the cautious views of street from Wilson and Subramanian.
"As we think about our forecasts for the year ahead, our key message centers around multiple contraction amid a continued mid-cycle de-rating, higher bond yields, and greater economic and earnings uncertainty," Wilson said in a note. "While earnings for the overall index remain durable, there will be greater dispersion of winners and losers and growth rates will slow materially."
Here is the view from the 2nd biggest bear Subramanian: "Drivers for our outlook: a higher discount rate, US GDP primacy vs. China, rising capex but slowing consumption, the end of the 'equity shrinkage' bull case."
One to Remember
Finally we take a moment to remember Citibank's Tobias Levkovich who died tragically at just 60-years-old. "While it would be enough to recognize Tobias for his acumen as a strategist, it is his spirit, his compassion and his humanity for which he will truly be remembered and cherished by all of us," wrote Levkovich's research colleagues at Citi, including Robert Rowe, Lucy Baldwin, Jon Rogers, and Anne Malone.

What do you think will happen in 2022? Are you a bull or a bear for the New Year?
"bull market" by mikecohen1872 is licensed under CC BY 2.0